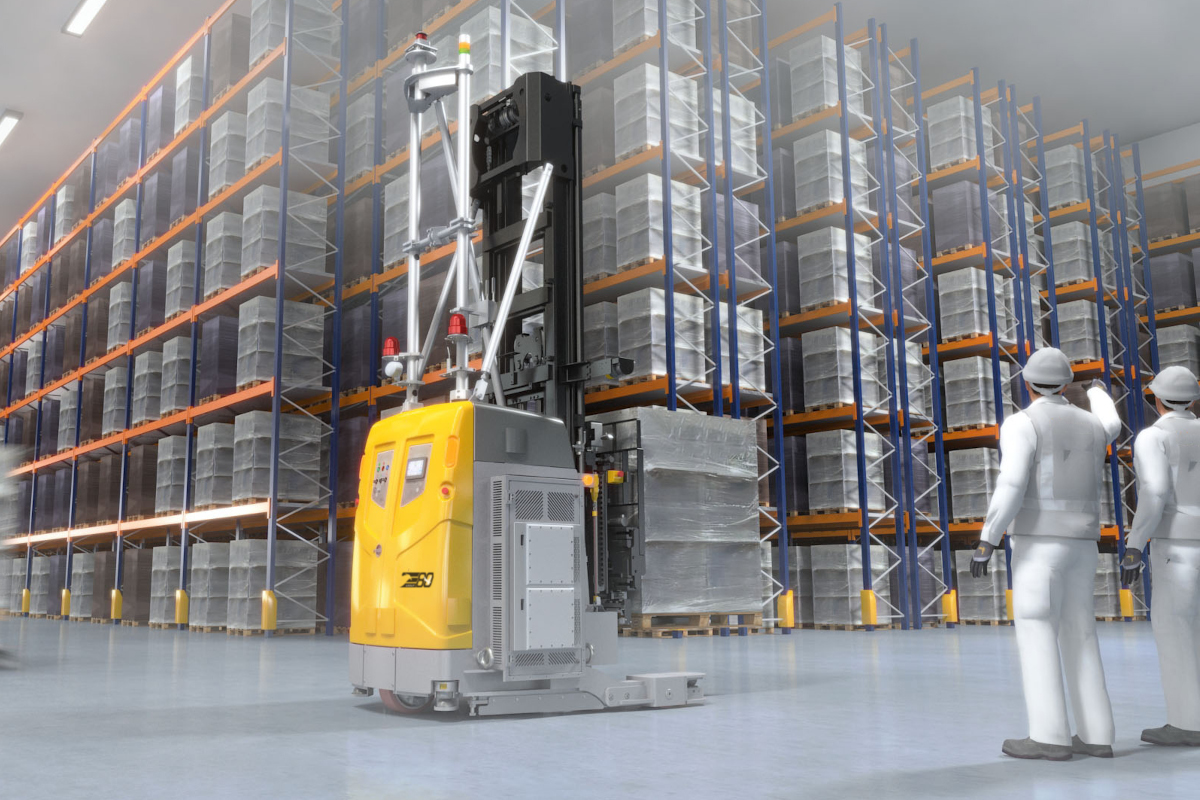 Worth USD 65.84 billion in 2021, the European frozen food market is further expected to grow at a CAGR of 2.8% in the forecast period of 2022-2027 (source: https://www.expertmarketresearch.com/reports/europe-frozen-food-market). As a consequence of the dramatic increase in frozen product consumption, rapid replenishment of retailers' shelves becomes critical, posing significant challenges for food processors, distribution centers, and retailers who endeavor to have facilities operating at a high level of efficiency.
With higher productivity required in order to satisfy the market demand, faster turnover of stock, and an increasing number of products in the -4°C to -26°C range, manufacturers and distributors are facing several challenges.
SCALABLE AND FLEXIBLE STORAGE SOLUTIONS UP TO -26° C
Maximizing storage density is key to reducing costs and boosting productivity, but maintaining a high throughput rate, along with inventory and fulfillment accuracy, is a much more difficult task in deep-freeze warehouses than in ambient or chilled-temperature ones. While the ambient in these deep-freeze facilities is cold enough to store food products safely, it creates an extreme environment with difficult working conditions for personnel and increased safety issues. Compared to non-deep-freeze storage, most manually operated sub-zero warehouses have a higher incidence of product damage, missed product rotation, and wrong item fulfillment, with negative impacts on production and cost efficiency. Automation of deep freeze warehousing represents an optimum solution to these difficulties and, simultaneously, an obligated response to the competitiveness of the market.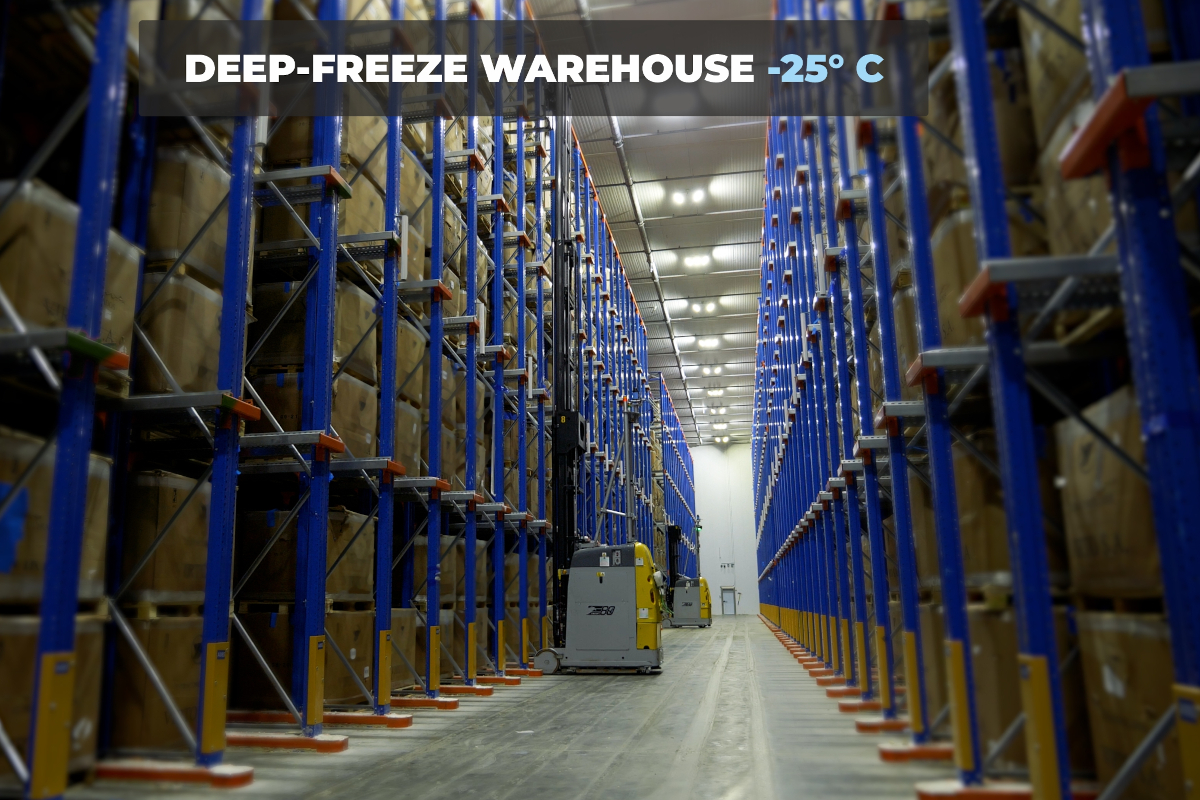 E80 Group – an Italian-based multinational leader specializing in the development of integrated and automated solutions for manufacturers and distribution centers, mainly in the food, beverage, and tissue sectors – provides flexible and scalable systems that manage all the intra logistics flows and ensure an increase in plant efficiency and total traceability of the products handled with positive effects on the entire supply chain. Thanks to SM.I.LE80 (Smart Integrated Logistics) software platform, E80 Group's systems are efficiently integrated and managed, optimizing all operations from raw material reception to warehousing and shipping. The entire Italian company's laser-guided vehicles (LGVs) and automatic storages wide portfolio, is developed to work even under temperature conditions up to -26° C. In addition to offering high-density automated warehouses – AVS/RS and AS/RS – the Group also gives factories and DCs the convenient opportunity to automatize their existing storage through LGVs, able to perform in sub-freezing plants, to customers who need to increment capacity and do not have space constraints. By automatizing storage solutions through LGVs, food producers and distribution centers are more flexible and have the possibility to scale up their plants without making additional investments in new infrastructures.
LGVs AND BATTERY PERFORMANCE IN SUB-ZERO FACILITIES
The use of LGVs has certainly played a pivotal role in facilitating the process and throughput efficiency in deep-freeze manufacturing and distribution operations. Interfacing with multiple systems, LGVs provide reliable raw material and product handling, with near zero potential for product damage. Moreover, thanks to a combination of logic software and wireless navigation LGVs can perform tasks that are not possible with other transport systems – such as the uniform movement and positioning of pallet loads extremely close to their designated targets, without noise and with a high degree of safety for workers and their operational environment. Focusing on extreme cold temperatures down to -26°C, LGVs, and all their mechanical components have been engineered to function optimally under these deep-freeze conditions. Specially blended steels, oils, greases, and other lubricants for gearboxes, bearings and drives, wiring and electrical cables, and electronic components: all are designed and made for extremely low temperatures and, in the case of the photo-electronic sensors that feed computer information and detect pallets, equipped with heating devices to avoid frost. Automated systems for deep freeze need to include these features, not only to guarantee reliability but also to ensure longevity.
Finally, a key factor in LGV operation, particularly in deep freeze environments, is battery performance. E80 Group's laser-guided vehicles are equipped with lithium-ion batteries, characterized by reduced weight, low maintenance, and less charging time needed, improving the overall performance in deep-freeze warehouses.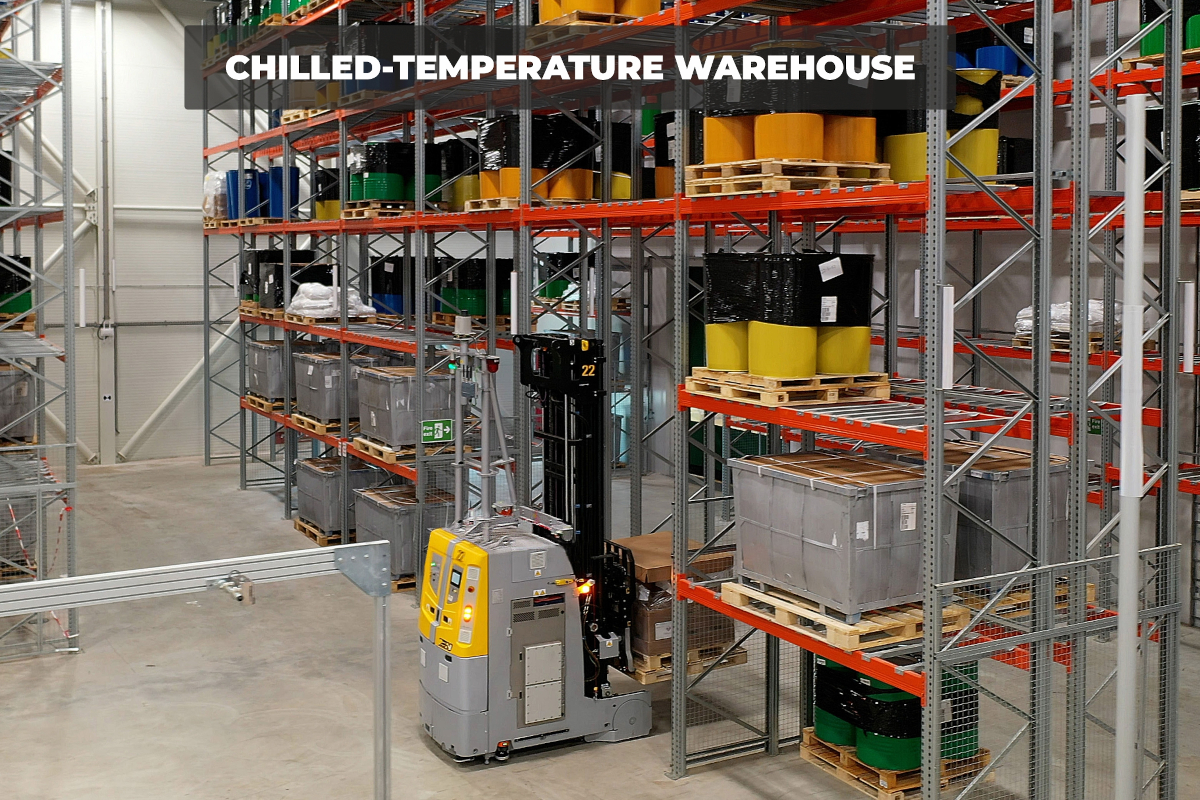 100% FOOD TRACEABILITY ALONG THE ENTIRE SUPPLY CHAIN
The ultimate challenge for frozen food producers and distributors is the need to identify where each product lot originated, where pallets came from, where they were stored, what the temperature was in storage, and other critical data to keep track of their perishable inventory and ensure product integrity. Manual handling leaves open the possibility of making mistakes in quickly recording and providing this data, with reliable and verifiable documentation. Thanks to automation, every step of the supply chain is managed, controlled, and traced 24/7, guaranteeing companies the supervision of all operations and all food products.
Preserving food quality is a fundamental requirement for manufacturers and DCs, and E80 Group solutions offer to its customers the opportunity to show their final consumers high sustainability level along the intralogistics flows of their supply chain.
© All rights reserved