According to Dogane data, the first nine months of 2021, Prosecco DOC Consortium exported about 98.2 million bottles to the US representing 25.4% of the total export. Thanks to the introduction of Prosecco DOC Rosé category and the easing of Covid restrictions the export volumes increased by 56.4% compared to a year ago, the Consortium tells Italianfood.net. If this trend remains the same, the last three months of 2021 could bring another 30-35 million bottles to the US market just in time for Christmas. It could also assist with refilling the inventory for early 2022.
Prosecco was not exempt from inflation. According to Nielsen data, the US wholesale price of a bottle of Prosecco DOC increased by 1.5% in the period January-November 2021.
EUROPEAN SPARKLING WINE LOSSES ITS FIZZ ABROAD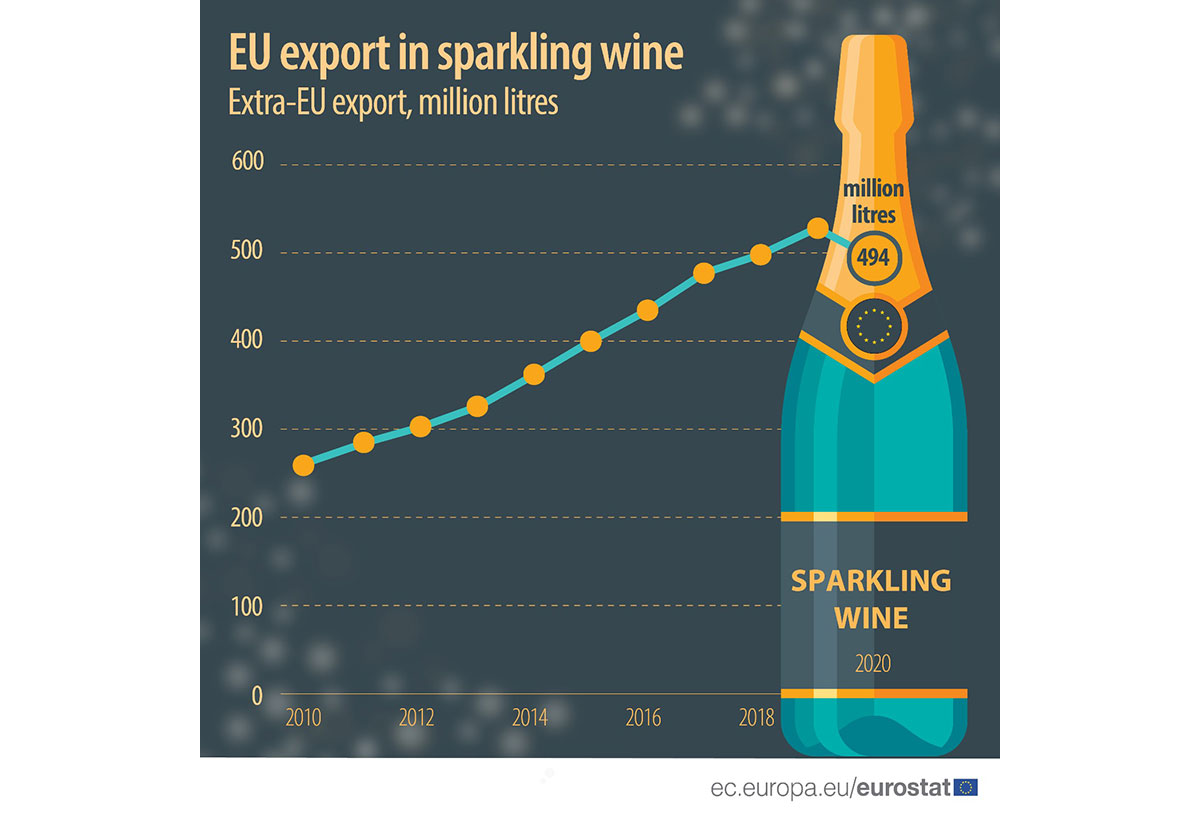 For the first time in a decade, the European Union announced sparkling wine exports declined according to data from Eurostat. Exports for the year 2020, the latest year for the data available, saw a dip of 6% in 2020. Eurostat reported in 2020, the three largest categories of sparkling wine exported by EU Member States to countries outside the EU were prosecco (41%, 205 million liters), champagne (13%, 66 million liters) and cava (12%, 58 million liters).
PROSECCO VERSUS CHAMPAGNE
Drizly, the largest e-commerce alcohol marketplace in North America, reported 17% of all wine the company delivered for the month of December was Champagne. (Italian Food has not heard back from Drizly asking for percentage of prosecco delivered on their platform).
Asked if the Consortium could out beat Champagne sales this year, the association said, "In the imagination of the American consumers, Champagne is the sparkling wine that should be enjoyed only on very special occasions, while Prosecco DOC thanks to its elegant simplicity is perfect to make every moment of the day enjoyable. The drinking occasions are different. So, the real challenge is to improve the quality of the productions year after year, not only from the organoleptic point of view, but also in intangible aspects such as the environmental and social-ethical sustainability." The consortium is hopeful that after navigating the pandemic for nearly two years, both Prosecco and Champagne producers will be able to restore and strengthen commercial activities.
Discover the authentic Italian sparkling wines and Prosecco on the Italianfood.net platform
PROSECCO DOC CONSORTIUM CONFRONTS SUPPLY CHAIN ISSUES
To address supply chain issues such as a shortage of raw materials and delayed shipments, the consortium is establishing a network of producers and companies that work in the sector related to the production of Prosecco DOC. For example, companies that work with wine equipment, packaging, and logistics. The consortium believes by working together with these companies it can identify efficient solutions to help production and continue to make prosecco competitive.
© All rights reserved