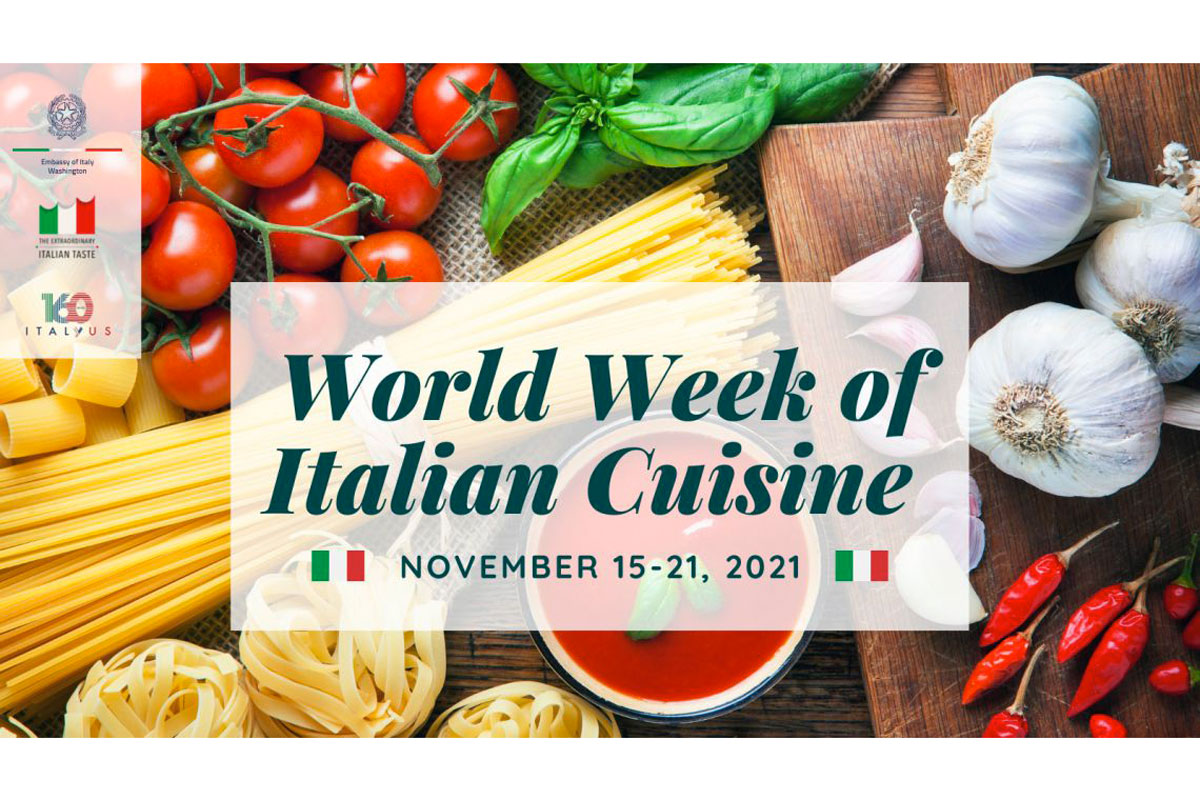 The sixth annual Week of Italian Cuisine in the World begins Monday, November 15th through Saturday November 21st. The weeklong celebration promoting Italian cuisine is an initiative promoted by the Italian Ministry of Foreign Affairs along with other agencies such as the Italian Trade Agency (as well as Italian Cultural Institutes). The Italian Embassy to the United States announced the complete program of events in a press release.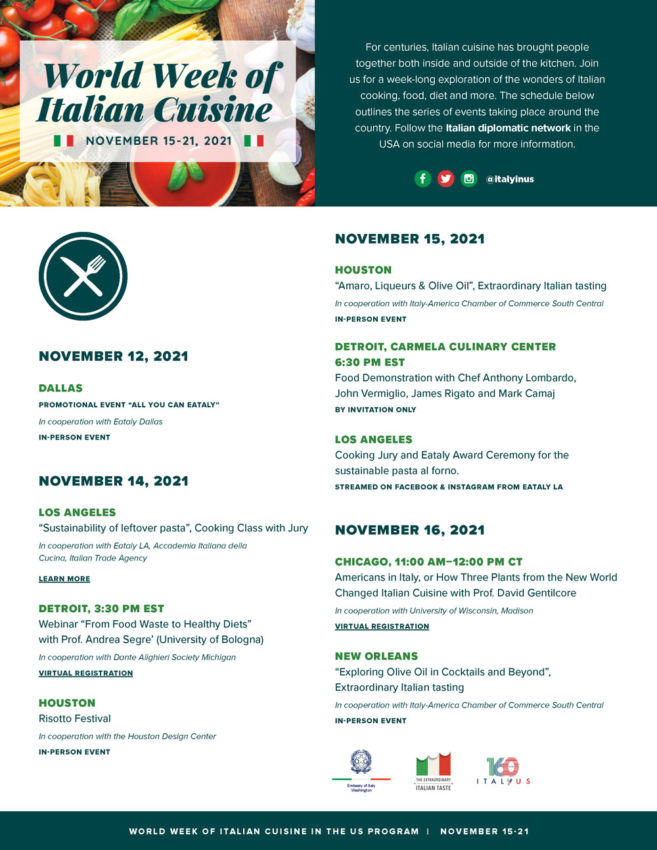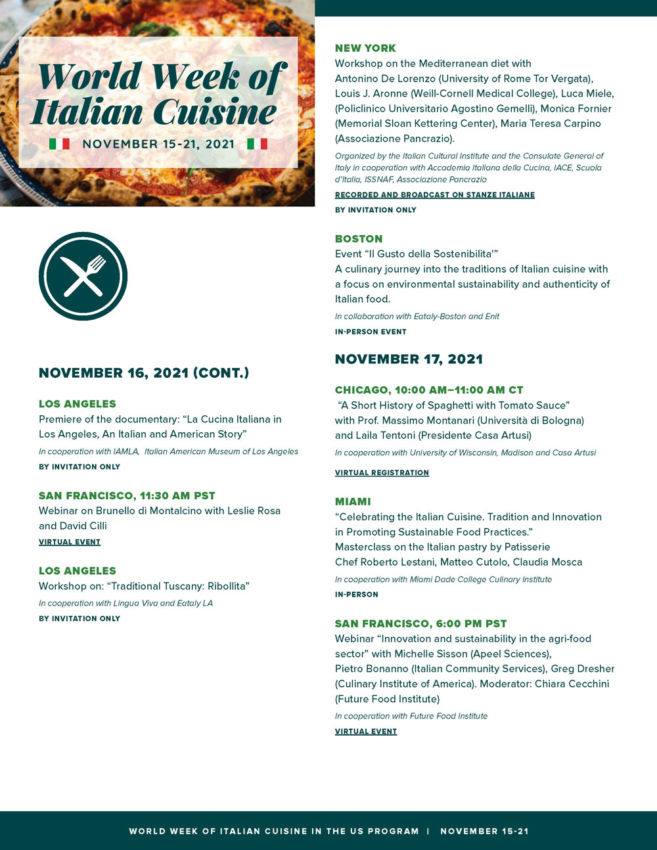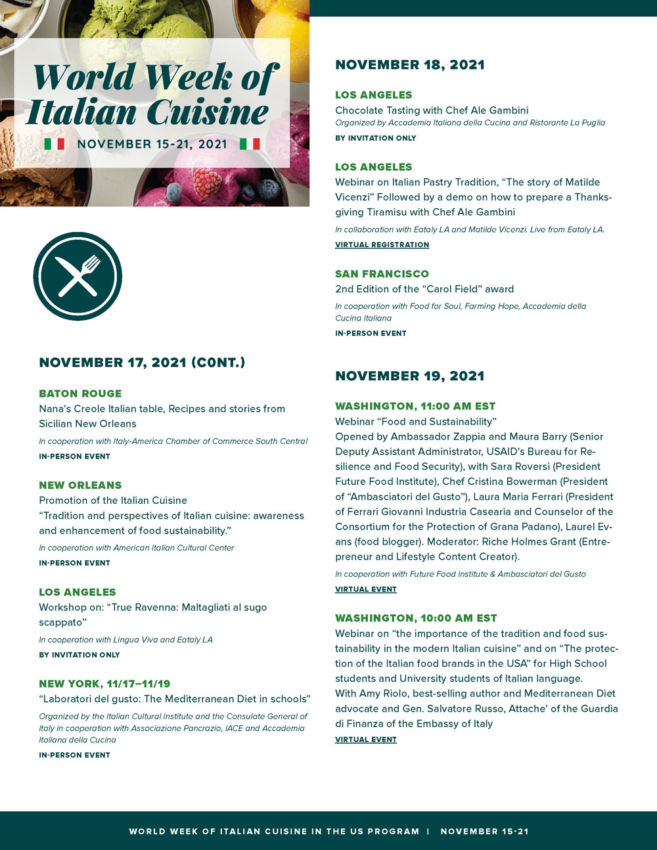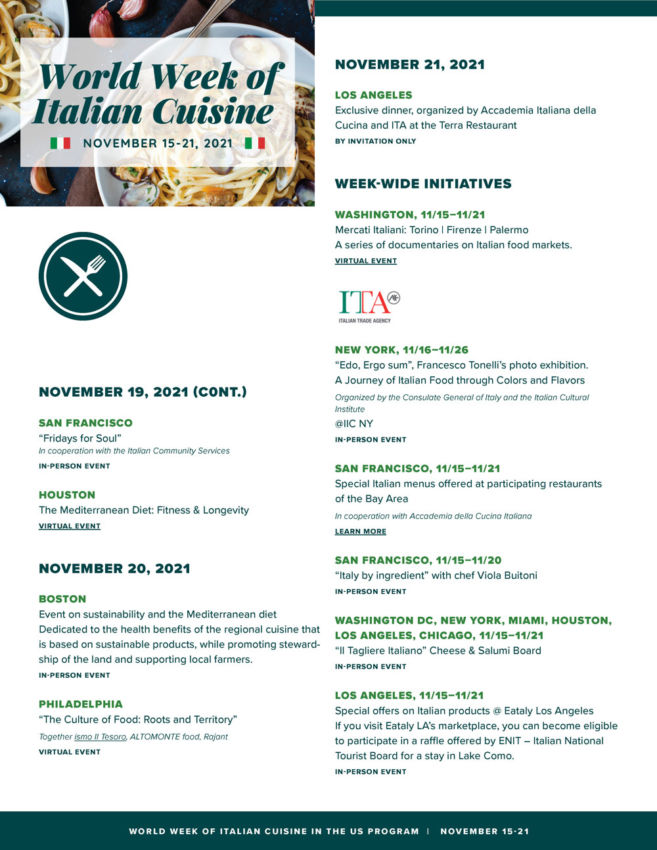 The focus for this year's events is on Italian cuisine between tradition, innovation, and sustainability. As the transatlantic travel reopens and a resurgence of trade between Italy and the United States, it's an important time to promote Italian cuisine. In 2021 trade between the two countries surpassed the record levels of 2019, with a nearly 30% growth of Italian exports to the US of beverages and agro-food products, according to the Italian Embassy in Washington.
Italy's Ambassador to the United States, Mariangela Zappia said in the press release, "Italian cuisine is synonymous with tradition, quality, creativity, but also innovation, well-being and sustainability", Zappia added, "From the Mediterranean Diet, taken as a model by doctors and researchers, to the traditional art of the 'pizzaiuolo napoletano,' recognized by UNESCO as part of the cultural heritage of humanity, Italy continues to inspire the United States, and indeed the entire world, in this field too."
A LOOK AT EVENTS THROUGHOUT THE U.S.
There are a wide variety of events that focus on cooking demonstrations, cocktail recipes, discussions on the Mediterranean Diet. There are about 40 events throughout the U.S. (attendance varies to in person or virtual). Some events across the U.S. include:
November 15 – HOUSTON – "Amaro, Liqueurs & Olive Oil", Extraordinary Italian tasting in cooperation with Italy-America Chamber of Commerce South Central | IN-PERSON EVENT
November 16 – NEW ORLEANS – "Exploring Olive Oil in Cocktails and Beyond", Extraordinary Italian tasting in cooperation with Italy-America Chamber of Commerce South Central | IN-PERSON EVENT
November 17 – MIAMI – "Celebrating the Italian Cuisine. Tradition and Innovation in Promoting Sustainable Food Practices." Masterclass on the Italian pastry by Patisserie Chef Roberto Lestani, Matteo Cutolo, Claudia Mosca In cooperation with Miami Dade College Culinary Institute | IN-PERSON
November 18 – SAN FRANCISCO – 2nd Edition of the "Carol Field" award in cooperation with Food for Soul, Farming Hope, Accademia della Cucina Italiana | IN-PERSON EVENT
To view the complete program throughout the Week of Italian Cuisine in the World click here: http://ambwashingtondc.esteri.it/ambasciata_washington/resource/doc/2021/11/italcuisine.pdf
© All rights reserved