A Nielsen investigation has identified six key consumer behavior threshold levels that tie directly to concerns around the Novel Coronavirus (COVID-19) outbreak. The thresholds offer early signals of spending patterns, particularly for emergency pantry items and health supplies, and we are seeing these patterns being mirrored across multiple markets.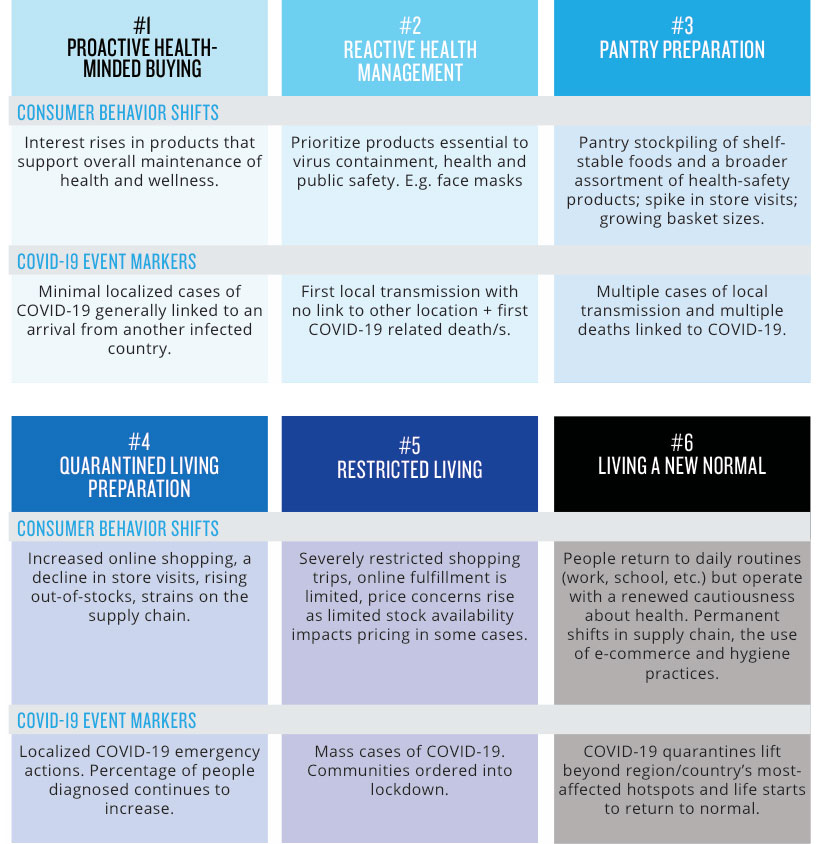 Threshold levels 1-4 are beginning to show predictable signs of spending from consumers. In other words, depending on what stage any particular country is in, there are signs that spending behaves in a common way that may make it possible to understand what might happen next, country to country. 
LEVEL 2
The world is largely past the first stage of proactive health-minded buying that drove only minor changes to sales patterns. However, at threshold level 2 (reactive health management), consumers in affected markets began stocking up on essential health-safety products, such as hand sanitizers and masks.
LEVEL 3
But as news reports detailed the continued and quick spread of the virus around the world, consumers in many countries jumped to threshold level 3: pantry preparations. By this stage, they begin developing stockpiles of food and emergency supplies. These spending spikes lessened in the weeks after the panicked moments but spiked on subsequent news events or developments.
A STUDY ON THE US MARKET
A Nielsen study of the U.S. market highlights how quickly consumers can digest and process new outbreak information and then make spending decisions tied to that news. These behaviors make it possible to understand early indicators of consumer actions, which can help companies manage their supply chain in response to news cycles. In the case below, we see a "breathing room" period of about two weeks after major news events tied to COVID-19.
On Jan. 30, the U.S. reported its first confirmed case of person-to-person transmission of COVID-19. Just two weeks later, (the week ended Feb. 8, 2020), sales of hand sanitizers, medical masks and household maintenance masks had declined by 4%, 47% and 53%, respectively, from the previous week. While out-of-stocks may have been a factor here, and sales still outpaced those from the prior year, the rush to health-protective products quieted down swiftly until the next piece of major breaking news hit.
PEAK PANTRY LOADING AMONG AMERICANS AS COVID-19 CONCERNS RISE
U.S. sales % growth vs. year-ago
Similar indicators around the globe demonstrate that in many countries, localized COVID-19 news developments have ignited consumer demand to the "pantry preparation" threshold. As detailed below, reports of local transmission and deaths from COVID-19 drive consumer interest toward necessities one might need at home in times of ongoing crisis.
KEY MARKETS MOVE FROM PROACTIVE HEALTH-MINDED BUYING TO REACTIVE HEALTH MANAGEMENT
South Korea: Initial Progression of COVID-Concern from Behavior Thresholds 1 – 2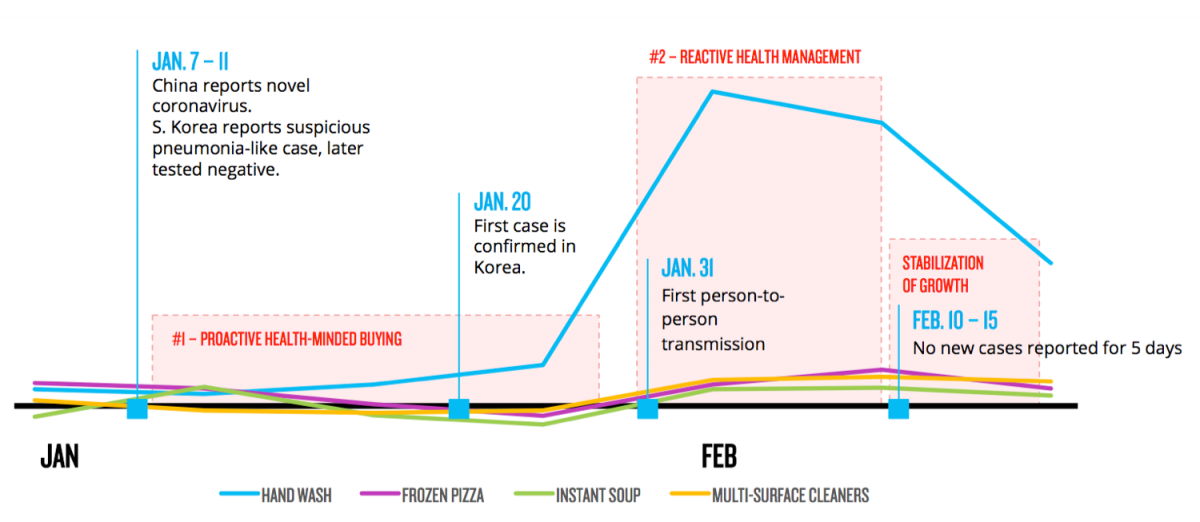 Italy: Initial Progression of COVID-Concern from Behavior Thresholds 1 – 3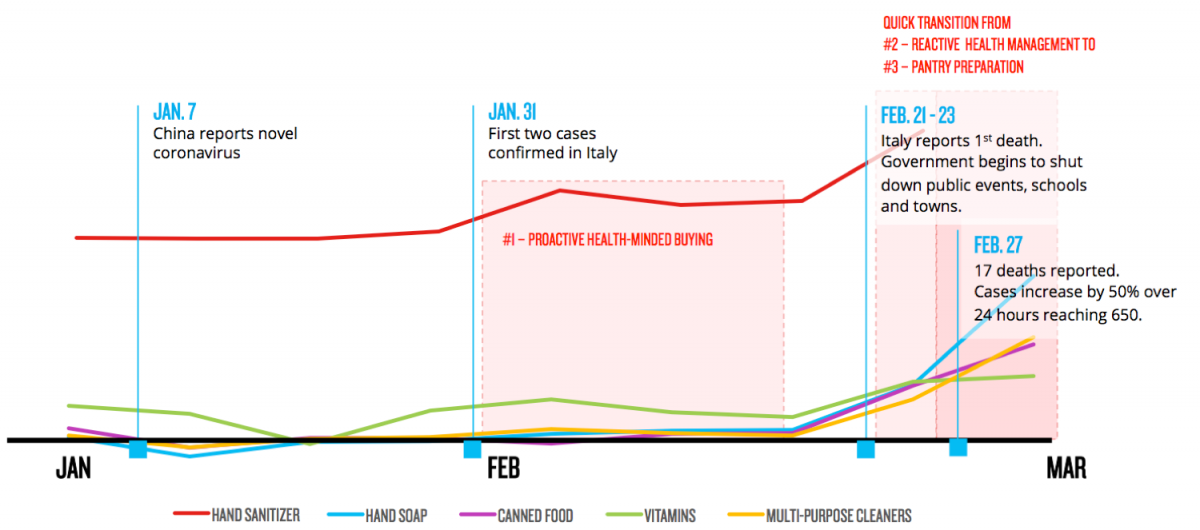 Some markets, such as Italy and South Korea, are well past the early thresholds of "proactive health-minded buying," "reactive health management" and even "pantry preparations." This week, Italy was put into a countrywide lockdown. The U.S. and many other markets should take note of the key trends that have defined purchasing behaviors in the later thresholds levels as they look for guidance on what is likely to happen. Based on preliminary findings so far, here are some predictions.
© All rights reserved