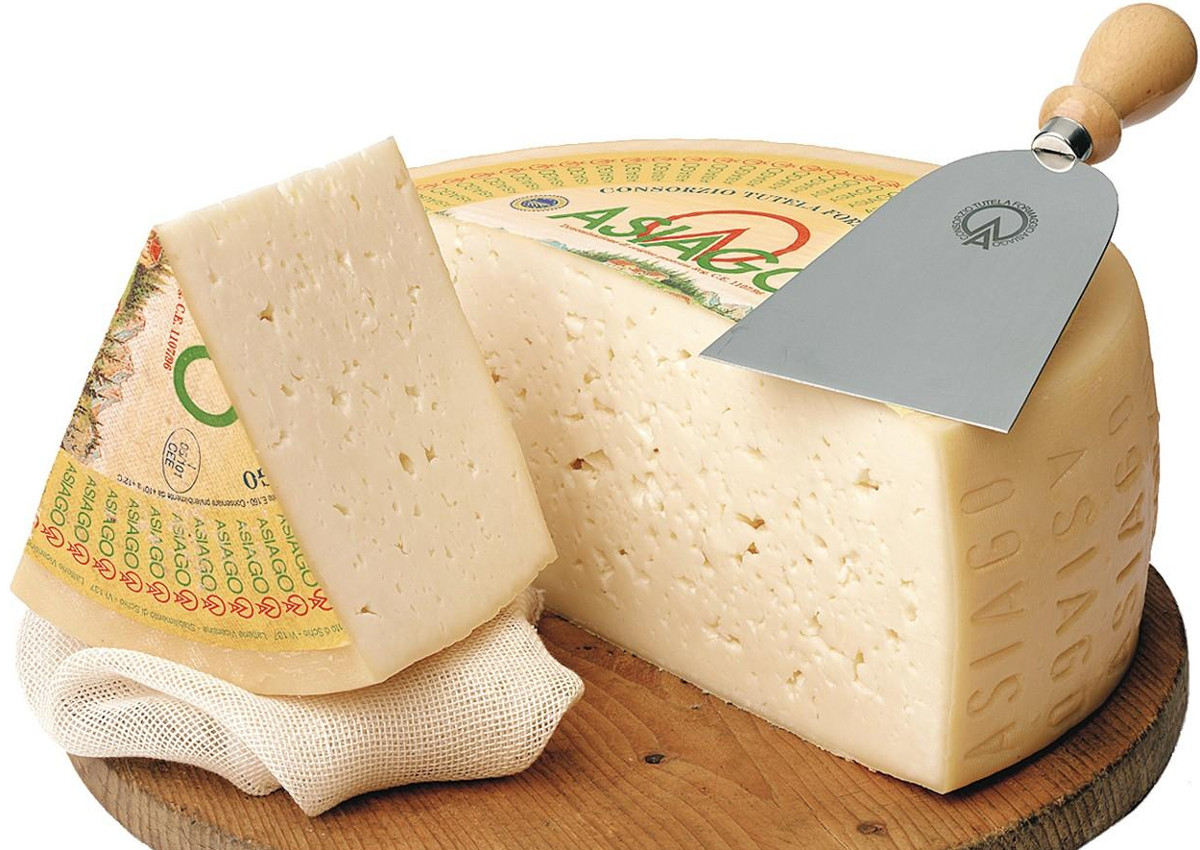 Fresh or aged, Asiago PDO cheese originates on the Asiago Plateau, in the North East of Italy. The area for collecting the milk and producing this PDO cheese includes four provinces: Vicenza, Trento and a part of Padua and Treviso. Fresh Asiago PDO Cheese, known also as "pressed Asiago", is made of full-cream milk and matured for at least 20 days. The cut cheese presents a white or pale yellow colour and the holes are marked and irregular. It is soft like a sponge cake and has an elastic feel. It has a delicate and pleasant flavour, with aromas that are reminiscent of yoghurt and butter.
Aged Asiago is a flavourful cheese with a strong personality. It should be chewed slowly until its aromatic notes explode in the mouth. It can be "Mezzano" (medium seasoned), "Vecchio" (mature) or "Stravecchio" (extra mature) depending on the seasoning. The cut cheese presents a yellow or pale yellow colour. The eye formation is of small or medium size. It is compact but soft in structure and as seasoning progresses it continues to harden. The rich aroma develops with seasoning and the flavour is enhanced by pleasant and even piquant notes. The smell is reminiscent of bread or pizza dough, dry hazelnuts and almonds.
HOW TO RECOGNIZE AUTHENTIC ASIAGO PDO CHEESE
Each slice is recognised by the lettering "Asiago" on the crust, while each form bears the number of the dairy where it was made and its own identification code on the casein label as a guarantee of traceability.
THE CONSORTIUM ACTIVITIES
The Consortium for the Protection of PDO Asiago is made up of 47 producers. "Our members are either small alpine pastures, farms, cooperatives or very large companies that make more than a thousand forms per day – says Luca Cracco, Marketing and Quality Manager of the Consortium for the Protection of Asiago PDO -. In addition to brand protection, the Consortium is involved in promotional support activities, both in Italy and abroad. To date, exports represent about 10% of total sales, and our goal is to grow much more thanks to the opening of some countries to the recognition of our PDO. In particular Mexico and Japan."
© All rights reserved