Looking at the list of European food products that will be affected by the additional tariffs of the Trump administration, there are several differences from one European country to another. Italy, for example, will suffer additional duties for some of its hams (only cooked ones), Parmigiano Reggiano and Grana Padano, Pecorino Romano and Provolone along with almost all Italy's dairy sector (except mozzarella di bufala campana), fruit and vegetables (but not tomatoes).
A sigh of relief, at least for now, for Prosciutto di Parma and San Daniele ham, olive oil, wines, and pasta. The same cannot be said about French wines, Scotch and Irish whiskey, Spanish olives, and German coffee. English and German biscuits will also be hit (but not Italian ones such as Ferrero's and Barilla-Mulino Bianco's).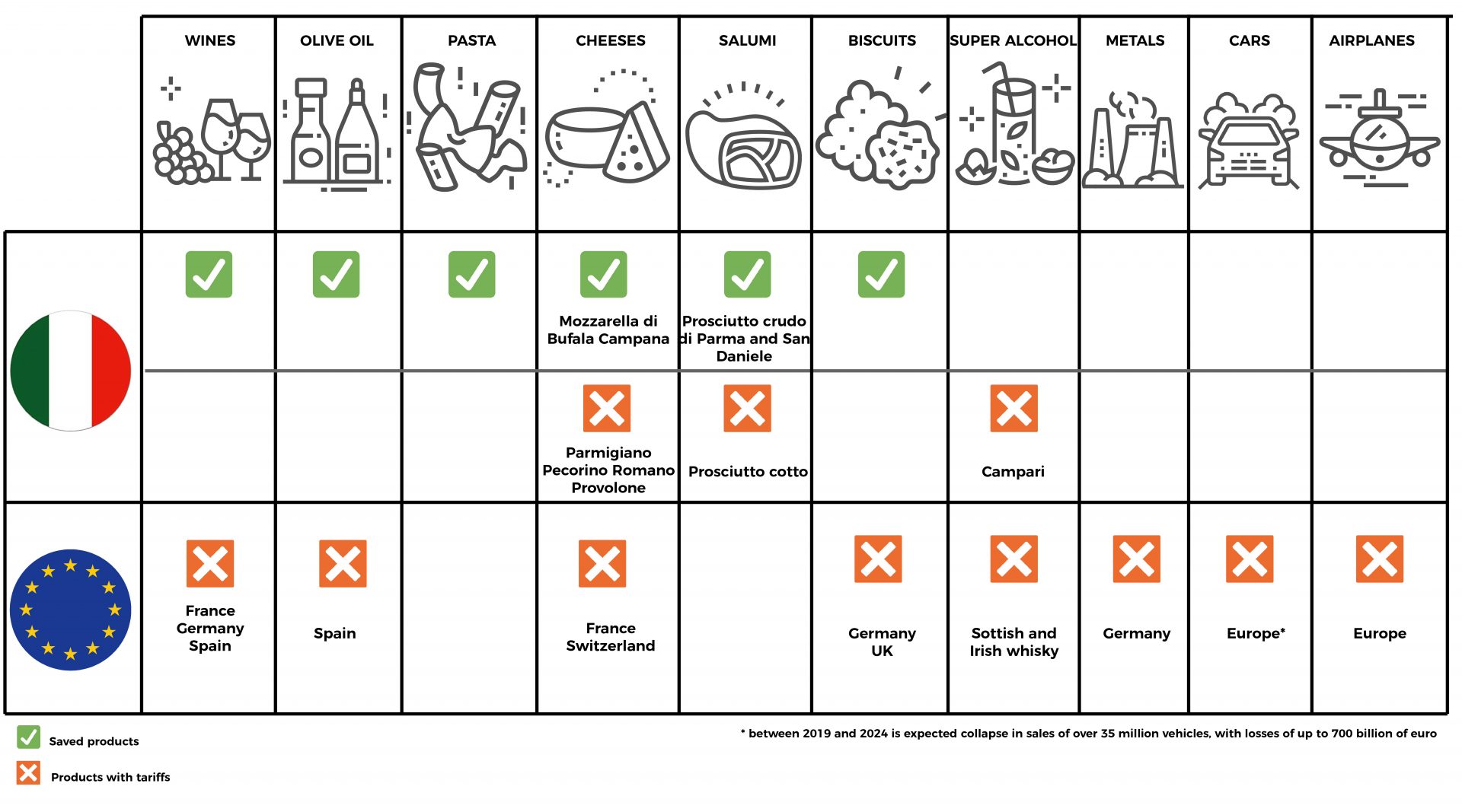 DUTIES: THE PARADOXES OF PRODUCTS AND RATES
The USA administration choices are curious when it comes to alcoholic goods: they tax French wine but not Champagne. Additional tariffs are to hit Scotch and Irish whiskey, while duties on spirits in Italy will penalize mainly Campari. Without including Grand Marnier (one of its brands) while it is still unclear whether USA consumers will pay more taxes on 'spritz'. The low alcohol content of Aperol could in fact exempt it. Another paradox is that the aeronautical industry, which is at the origin of all given the Boeing-Airbus affair, will be charged less than the food industry (10% instead of 25%).
THE POSSIBLE CONSEQUENCES
Compared to the initial scenario – where the WTO could give the green light to duties of up to additional +100%, a doubling of the price that would have 'killed' many products – the 25% additional tariffs will affect consumption but they will not destroy the market. In addition to penalizing European companies, duties will in fact be paid by American consumers. In 9 months, then, when the WTO is to authorize sanctions against USA for subsidies to Boeing, it will be the turn of the European retaliation, unless in the meantime Trump starts to negotiate with Europe. Perhaps by suspending the implementation of the duties, as it has already done with China.
CONSORTIUM PARMIGIANO REGGIANO: THE US ARE WAGING WAR AGAINST EU GI
According to the protection Consortium of Parmigiano Reggiano, which refers to an official statement from the USA National Milk Producers Federation "the United States has declared what the real goals of the duties are: to wage war against European Geographical Indications. At last it is clear – underlines the president of the Consortium, Nicola Bertinelli – why in the list of products subject to an additional duty of 25% there are only certain Italian Geographical Indications, such as Parmigiano Reggiano. It is because Europe protects its registered PDOs. American cheeses (such as Parmesan, but also US Asiago or Gorgonzola, or Fontina made in the USA) can therefore not enter the European Union. The demands of the American government are absurd: we will never allow Americans to sell Parmesan in Italy, and this also applies to all other Consortia for the protection of Italian Geographical Indications. If Trump says 'America first', the Parmigiano Reggiano Consortium answers 'American consumers first'."
© All rights reserved