A delegation of 25 buyers from all over the world visited Italian snacks company Amica Chips headquarters. The event offered buyers the opportunity to discover the technologically advanced manufacturing process behind the renowned potato chips, as well as the know-how of an undisputed protagonist of the Italian savory snack market, increasingly focused on international growth. Amica Chips is known for the attention it pays to select the best raw materials. The company produces and sells a simple snack, which is also of very high quality.
AMICA CHIPS: A TRUE INNOVATOR IN QUALITY
Constant quality control, the analysis of market trends, and the expansion in the healthy and gluten-free sector help Amica Chips stand out in the growing savory snack market. The buyers who visited the company's factory said they were impressed with the advanced processing system that makes Amica Chips a true innovator in its industry.
"Our journey was very successful. The tour of the factory was very interesting. We noticed the high-tech, very sophisticated machinery. The product looked very healthy. Extracting oil and fat from the product is in line with a strong trend in the market as people are looking for healthy products," Abdulrazaq Lari, chairman Khalil Ali Akbar Lari Group Doha, Qatar, told Italianfood.net.
A NEW UPRIGHT PACKAGING
After excellent sales results abroad of the premium lines Eldorada and Alfredo's, the company's goal for this year is to further consolidate its presence with a stronger and widespread retail positioning for authentic Italian products. Last April Amica Chips launched the latest addition: Alfredo's Push-pop format. The innovative packaging allows, through pressure on the upper part, to transform the pack into a practical container to serve the chips 'Straight on the table'. "We are the first in Italy to have created this pack, that stays upright," Amica Chips co-owner Laura Moratti said.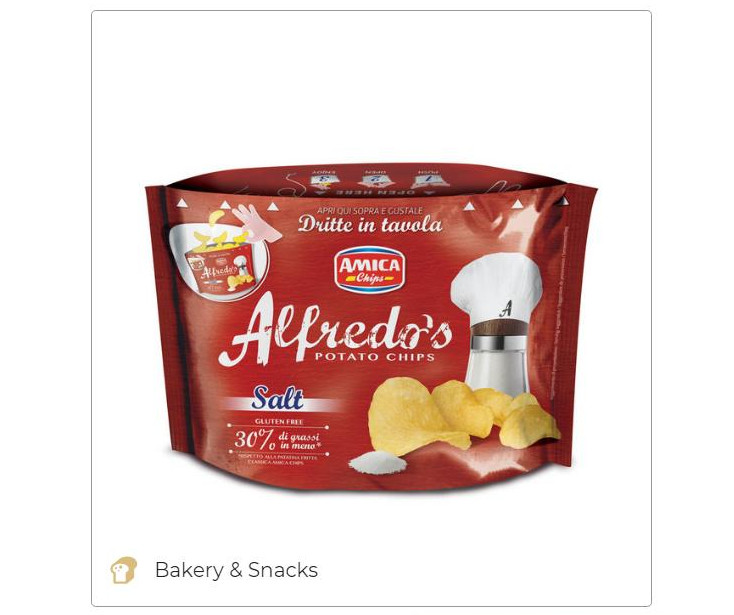 EYEING ASIA EXPANSION
The company is looking to expand into new markets, as it develops new ranges of products, flavors and packaging. "We are in 23 countries, but we always try to improve ourselves and open new markets," Export manager Adriana Marigliano said. The goal of the company is to "establish a regular retail presence in new markets such as Malaysia, Japan, Indonesia, Singapore and Thailand," Export manager Sonia Tragaioli added. For Amica Chips, the journey started in 1990 continues through a constant search for innovation, new flavors and new market trends, as well as attention to the environment. "We have invested a lot and will continue to do so because a high quality product needs as much attention as possible even in the final phase," the company explained.
© All rights reserved