Once considered as an occasional break between lunch and dinner, snacks are replacing meals as consumers eat less but more often during their busy day. Annual sales of snacks in the US amount to around 89 billion dollars, growing at an average annual rate of 3%, according to research firm IRI. The growing consumption has prompted brands to increase the variety of snacks available and innovate by mixing natural ingredients in creative ways.
MORE FRUIT AND VEGETABLES SNACKS
According to a consumer survey by Datassential, 94% of respondents said they had about 4-5 snack foods the previous day. Most consumers said they would like to see more natural, organic, no-sugar and gluten free options, as well as vegetables, the survey showed. Products made from chickpeas, quinoa, legumes, and cauliflower were recently on display at Sweets and Snacks Expo. Others featured innovative flavors such as sun-dried tomato, rosemary and garlic and even Prosecco. Produce is repackaged as individual cups, mixed with dried fruit and nuts, and used in smoothies. Roasted seaweed snacks can also be found at retailers from Whole Foods to Walmart.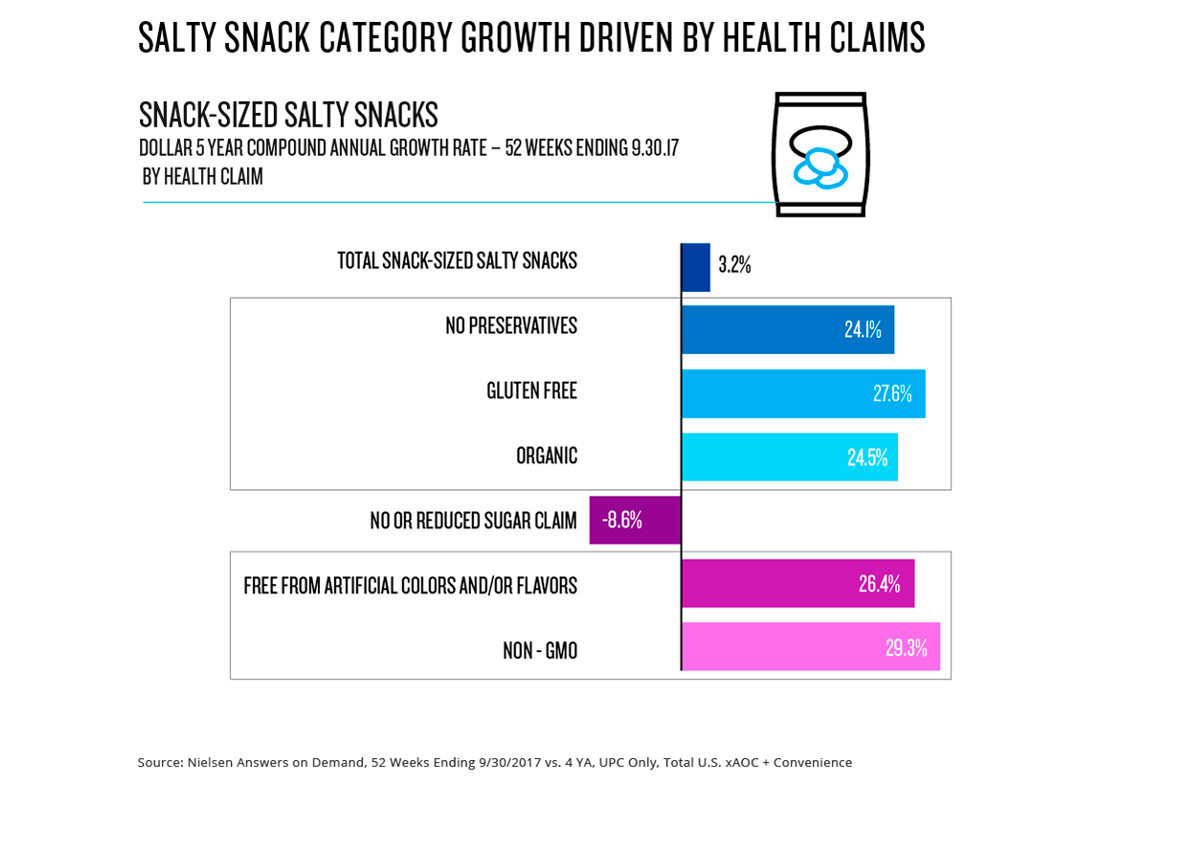 THE BETTER-FOR-YOU TREND
Millennials eat better-for-you snacks more often throughout the week than any other group, according to a study by Amplify Snack Brands and the Center for Generational Kinetics. The research also shows that 89% of Millennials are eating better-for-you snacks at least once a week. Grocery stores are offering a larger variety of natural, organic snacks, with 77% of better-for-you snacks being purchased at natural grocery stores. An additional 7 million Millennials buy them at convenience stores.
CLEAR LABELS ON THE PACKAGE
Attention to nutritional properties means Millennials want packaging to clearly say what ingredients were used for their snacks. Easy-to-understand labels are a key to driving purchases by younger generations, the report also said. Amplify's research also suggests that Millennials are willing to pay more for a healthier quality product, regardless of income.
ON-THE-GO CATEGORY RISES
A research by Nielsen of volume versus value sales has shown that consumers are primarily spending more but not buying more snacks. The on-the-go snack category is growing to 1.1 billion dollars, Nielsen said, or at a compound annual growth rate of 10% between 2012 and 2016.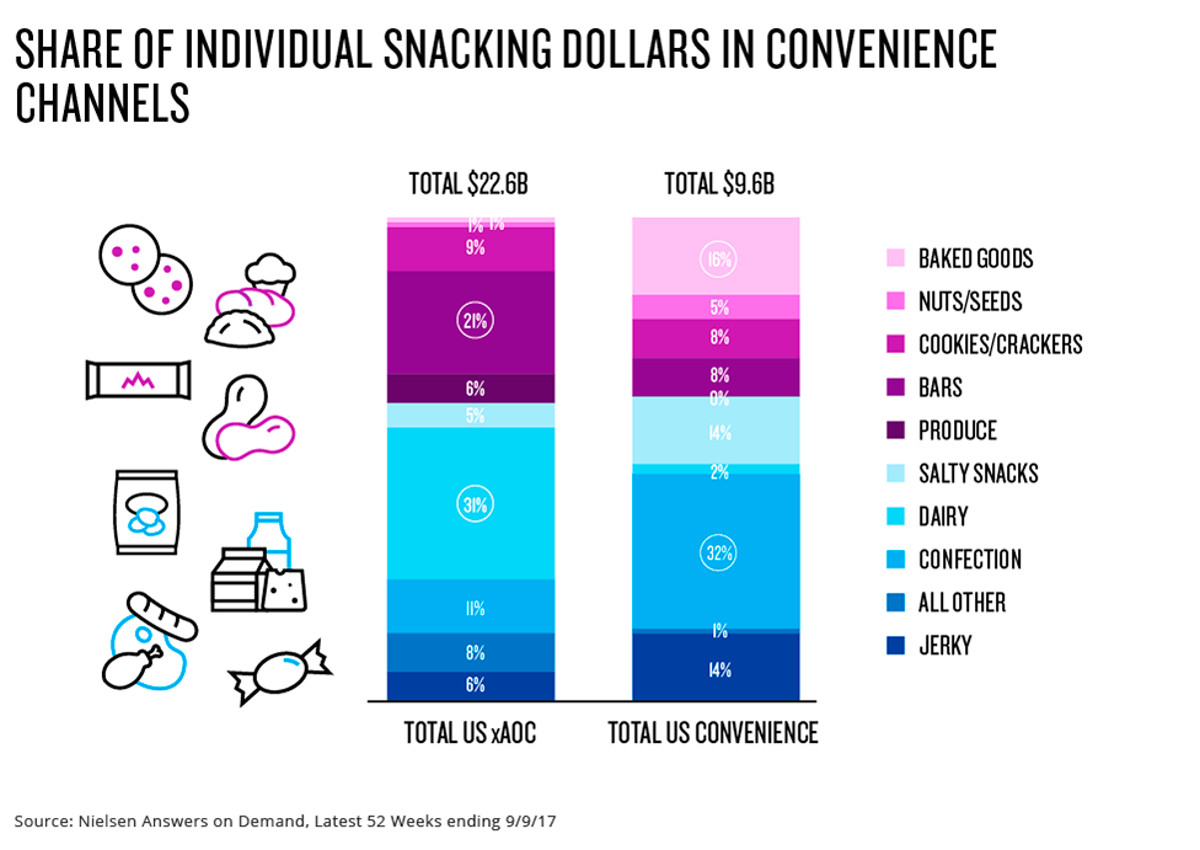 INDIVIDUAL SNACKING CATEGORIES ON THE RISE IN THE US
With increasingly on-the-go lifestyles, Americans are reaching for snacks to satisfy their hunger cravings between meals, and some are using them to replace meals entirely. As the individual snacking category reaches $33 billion in the US, retailers and manufacturers are offering single-serve grab-and-go products to fit their needs. Snacking products that are non-GMO lead the way with an 18.2% surge in dollar sales for each of the past five years, followed by snacking products that are free from artificial colors/flavors (16.2%) and no/reduced sugar claims (+11.3%). Comparatively, the average snack product has seen an increase of only 1.2%. With 44.2% of consumers willing to pay premium prices at convenience stores, there is an opportunity to grow healthier snacking options in this channel too. Additionally, 33% of convenience store shoppers plan to purchase fresh food at convenience stores in the future, opening up the opportunity for innovation to reach the consumer on this trip type.
© All rights reserved