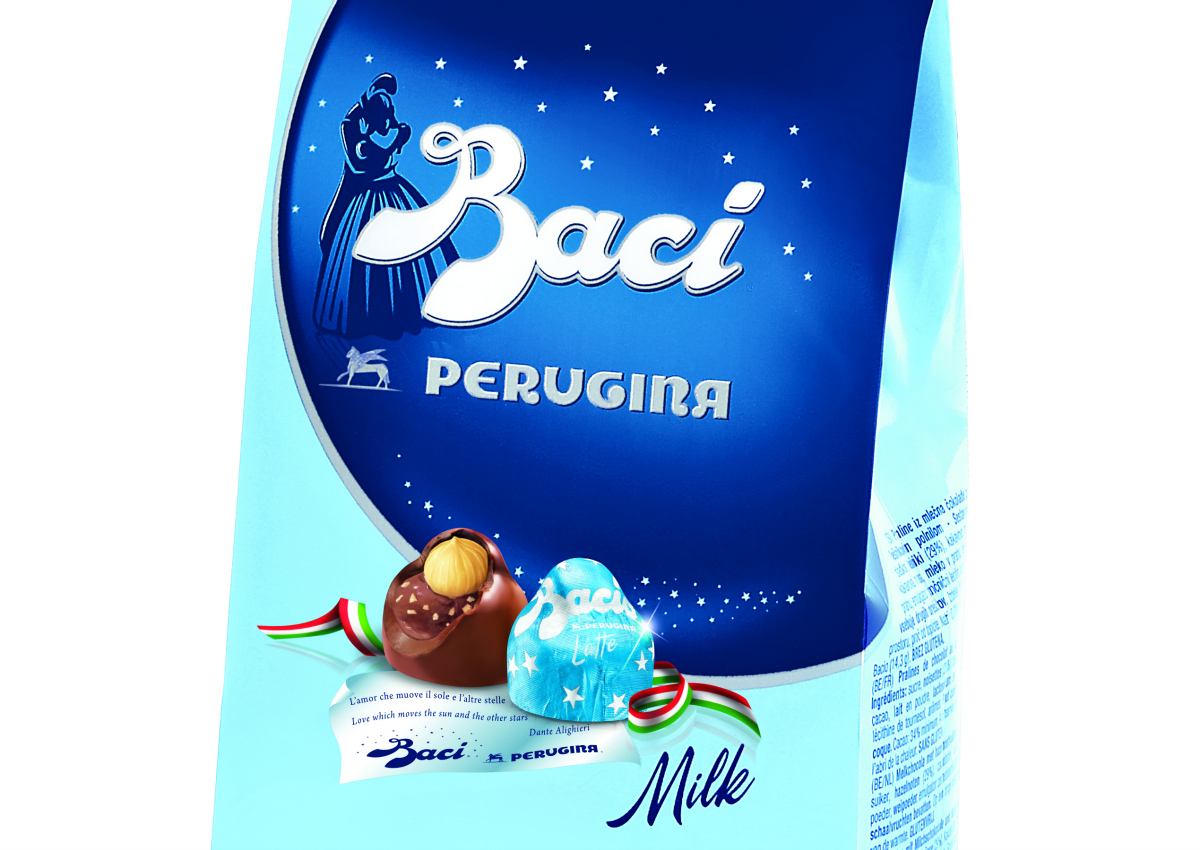 Crafted in a small chocolate shop founded by Luisa Spagnoli and her husband Annibale in the medieval Italian city of Perugia, the recipe for the classic Baci (Italian for "kisses") Perugina, has remained unchanged over the past 95 years: a fine coating of decadent dark chocolate and a creamy milk chocolate, chopped-hazelnut filling, crowned with a perfectly-toasted, crunchy whole hazelnut. The chocolates are made with just eight, all-natural ingredients, including 100% cocoa butter and natural vanilla flavoring. They are gluten-free, kosher and halal certified. Since the 1930s, each Baci has come wrapped in a "love note" inspired by classical and contemporary poets, philosophers and artists. The love notes are now available in several languages, including Portuguese and Chinese.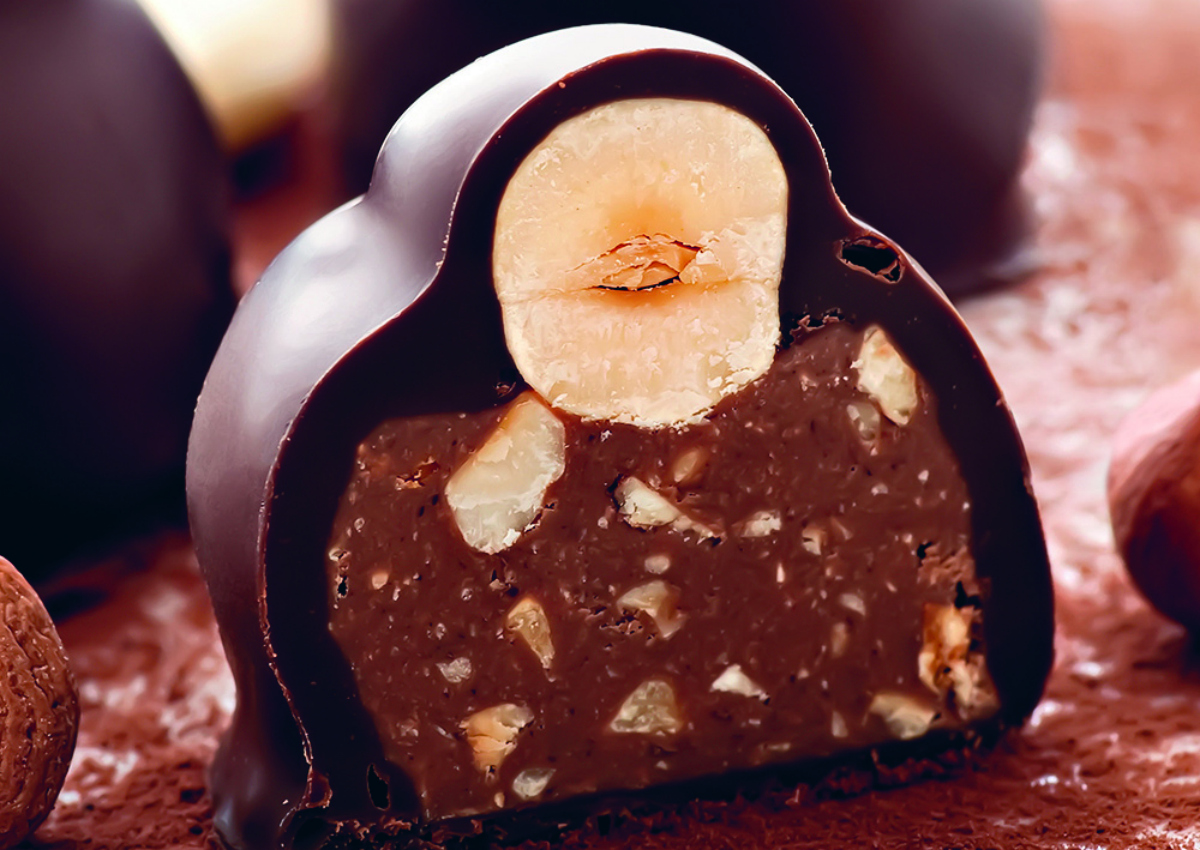 Utz-certified for sustainable farming
Baci Perugina has participated in the initiative launched by parent company Nestlé, The Cocoa Plan, designed to support UTZ-certified sustainable cocoa production, including the improvement of farming productivity, ultimately aimed to make a better cocoa and a "better chocolate". Nestlé-Cocoa-Plan- and UTZ-certified Baci Perugina products include a special label providing further information on each chocolate's quality ingredients.
The Perugina school of chocolate
Founded in 2007, the Perugina House of Chocolate offers an educational journey and indulging experience through the century-long history and world of Baci Perugina. Since November 2011, the Perugina School of Chocolate is present in the prestigious upscale Italian specialty food store Eataly New York, in the heart of Manhattan, where visitors can find Baci Perugina and its high quality, "Made in Italy" taste.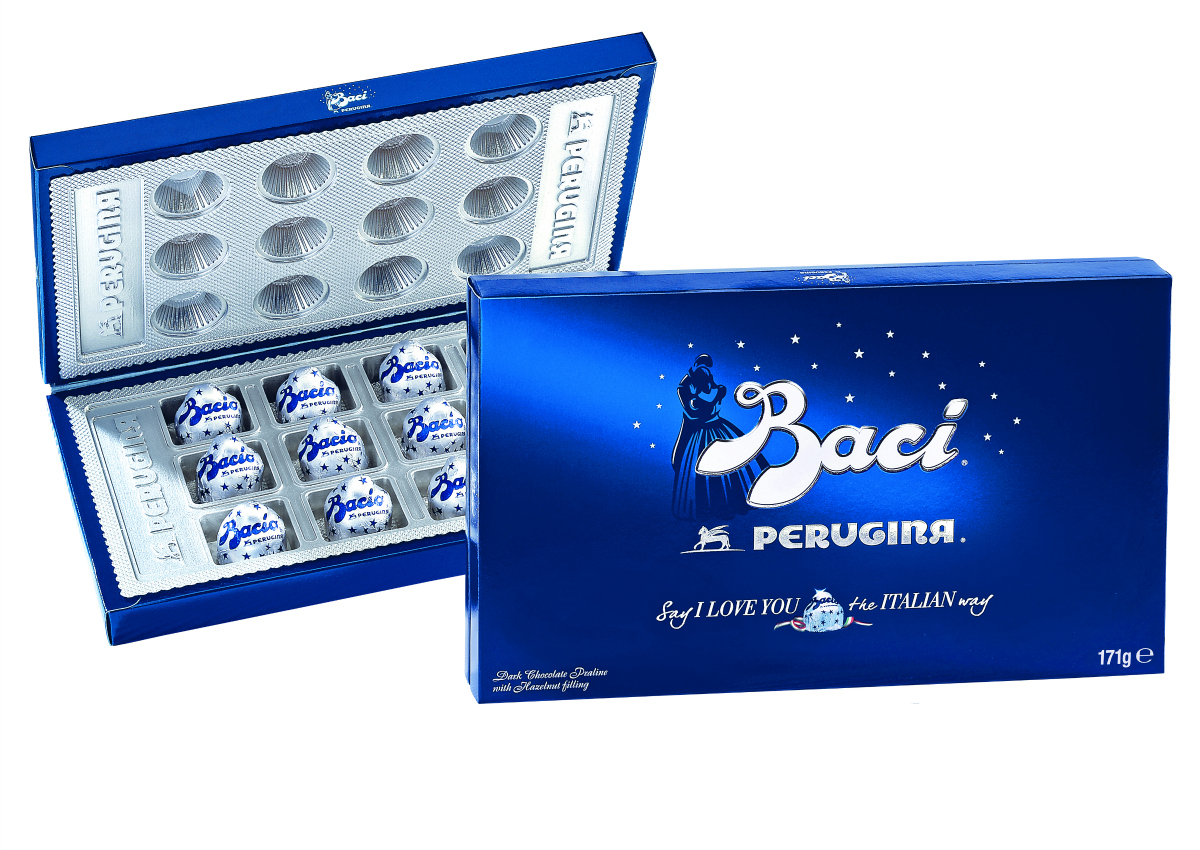 Dark and milk: theme variations
Since chocolate and fashion designer Luisa Spagnoli created the original dark Baci in 1922, a series of variations to the iconic chocolate have been introduced to please different markets while keeping the same simple and rich quality preparation. In the United States, where Perugina first debuted in 1939, Baci are available in original dark and milk chocolate. The "original dark" version has a dark chocolate coating with a gianduia and chopped hazelnut filling, topped off with a whole hazelnut and wrapped in the iconic silver starry foil. Milk chocolates offer the traditional filling with the whole hazelnut and come with a light blue starry foil. Both ranges are available in four packages: Baci Tube, Baci Bag, Baci Vista and Baci Box. In October, Baci will also be launching a new limited edition dark chocolate, Extra Dark 70% for the holiday season.
A global footprint
Baci Perugina exports to 55 countries worldwide, including in key markets such as Canada, the United States, Brazil, China, Australia, Russia and the UK. In March 2016, parent company Nestlé announced a development plan with an investment of 60 million euros to boost the international positioning of the Italian chocolate brand. The plan targets to increase exports, modernize the production plant and hire new managers with international experience.
Fun facts, but true
Baci Perugina exports to 55 countries across the world, and 1,500 Baci chocolates are produced per minute. About 500 million of Baci are sold every year; if they were lined up, they would circle the Earth 10 times. All Baci's love notes, totaling 18,000 km, would stretch from Perugia to Melbourne. Baci Perugina's star is the Scorpio constellation, in honor of Luisa Spagnoli's zodiac sign. In 2003,"BaciOne" made it into the Guinness Book of World Records as the largest individual chocolate. In 2010, Baci Perugina unrolled the longest love note in the world, reaching 200 meters, as part of its "Baci (kisses) without boundaries" campaign.
© All rights reserved