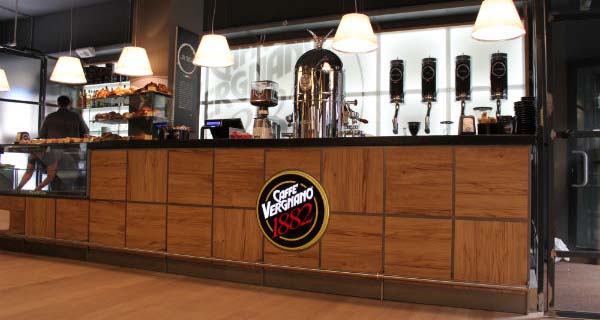 CAFFE' VERGNANO 1882 IS READY TO LAND IN SINGAPORE AND THAILAND- The Italian coffee company confirmed that the deal had been signed: "It is official. We are opening in Singapore." Details are still being worked out, but Vergnano's office confirmed that the new opening is part of a strategic plan of further more expansion in Thailand as well as the opportunity to penetrate Asian market more. And the new opening, in fact, supports the development of the export business. "Our strategy – explains Carolina Vergnano, the export manager of the Italian company – focuses on a global scenario expansion where we have just closed a very important deal in Singapore". The new openings concern three stores named Coffee Shop 1882, the first will be opened by the end of September this year " but at the same time" – added Carolina Vergnano-" we are sorting out a partnership with a new distributor in Thailand. The talk is closed and the agreement has yet to be signed".
HORECA DRIVES GROWTH – The catering formula segment, including hotels and bars is led the global business of Vergnano. In the year to 31 December 2015, the coffee company generated foreign sales up to 11,8 per cent over the previous year and, in particular, the Horeca channel spread out with a jump up to 10,9 per cent over the same time period. The announcement has arrived on occasion of the first semester's financial data release , which registered a revenue of about 38 million euros, up to 7,2 per cent compared to the same time period. Foreign markets growth generates revenues totalling 8,2 million euros in the first semester this year. Therefore the new branch in Singapore is considered a strategic operation for strengthening presence in Thailand and close Asian countries eventually.
BUT EUROPE STILL ACCOUNTS- Among other points highlighted by Vergnano financial report are that the European region is leading on coffee shop formula sales, with France, Germany, Poland and Greece rank first countries in the exports sales, even if the Italy' company sells in more than 90 countries all over the world. Europe still account for half of global demand for coffee. " We just have to consolidate what we have best do in home country and abroad till now, in particular, with the aim to continue the double digit growth which has been characterised our recent developments. The target is Asia where we want to enrich the offering without forgetting the much more interest in South America scenario"- said the export manager Carolina Vergnano.
© All rights reserved