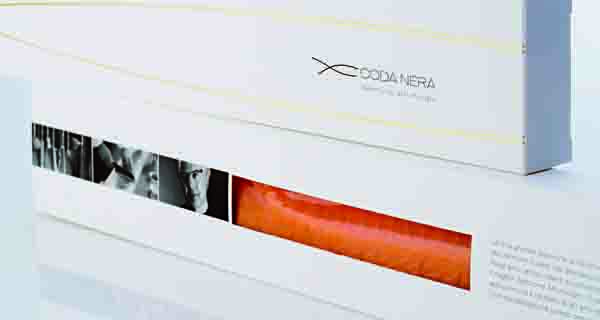 In the words of Giordano Palazzo, owner of Italian seafood specialists La Nef: natural salt, air and wood smoke are all you need to obtain a very high quality product. His flagship products Coda Nera and Coda Nera Riserva have made La Nef into a truly unique business, the number one choice for gourmet restaurants and shops alike.
"The name", Palazzo explains, "derives from the historic way fish was prepared in the Baltic coastal regions of Lithuania, where salmon were traditionally smoked by specialised artisans employed by the Tsar. The salmon was hung by the tail, a tradition that we have revived and successfully replicated with the same attention and eye for detail that you would expect from any high-end Italian gastronomic product. Ever in pursuit of excellence, we only ever use fresh salmon, never frozen, a trap other producers fall into to meet the demand for wild salmon all year round. Using frozen fish often results in a harder, more compact texture to the flesh, which does not flake nor break apart and is an unappetising deep pink colour". Smoked salmon has been progressively undervalued over the years. Rather than being enjoyed on its own, it is often used as an ingredient in pasta or risotto dishes, which does not allow diners to appreciate differences in taste or quality. Furthermore, having once been an occasional treat, salmon has become something of a mainstream product, which has resulted in mass-produced versions to meet demand". The company, from the town of Osimo in the Le Marche region of Italy, plan to increase brand awareness, and the superior taste of the Coda Nera range will always be the cornerstone of their message.
In a market that's always under pressure to reduce prices, the counterattack is to keep informing opinion leaders about their premium quality products and traceability. This is achieved through participation in high-end and niche-market trade fairs, like Taste in Florence. Meanwhile the partnership with Eataly, is paving the way for international expansion: the company is poised for distribution in Dubai before the end of this year and there is word of involvement in a number luxury food concept stores.
© All rights reserved