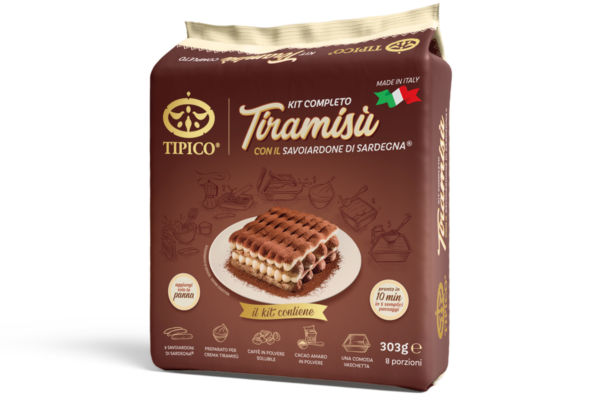 EASY, FAST AND FUNNY

READY IN 10 MINUTES

8 SERVINGS
The complete kit for Tiramisu with Savoiardone di Sardegna (big ladyfingers from Sardinia) is the delicious new sweet bakery product launched by TIPICO. In just 10 minutes, with 5 simple steps, your spoon dessert is ready to share. All the experience and quality of Made in Italy in a practical and elegant package that contains 8 big ladyfingers, the preparation for the tiramisu cream, instant coffee, bitter cocoa, and a convenient tray for preparation, all you have to do is add the cream! Easy, quick, and fun to prepare, it is designed according to the traditional recipe of the most loved Italian dessert in the world.
It is ideal for families, young couples and singles, curious food lovers and gourmets with limited time available, lovers of traditional desserts, and creative people looking for innovation.
Packaging
The packaging color is characterized by the tones of cocoa and coffee, in contrast with the beige and ochre of the raw materials that are the basis of Savoiardone. Also thanks to the golden finish, it gives an effect of luxury while remaining familiar. The image of the finished product is a promise and a challenge at the same time.