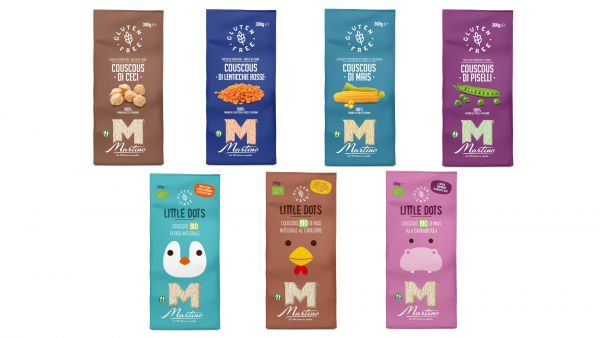 GLUTEN FREE AND PLANT BASED

HIGH PROTEIN CONTENT

"LITTLE DOTS", A LINE DEDICATED TO KIDS
Martino presents the "GLUTEN FREE LINE", the first couscous created by ALTERNATIVE RAW MATERIALS without gluten such as chickpeas flour, red lentils flour, corn flour and peas flour. Particular attention to the "LITTLE DOTS LINE", a gluten free line thought for kids but perfect for all. The special raw materials are brown rice flour, brown rice flour and cauliflower, corn flour and beetroot.
Packaging
The
"GLUTEN-FREE LINE"
comes with a 100% recyclable packaging processed with non-toxic colors. A
"stabilo" pack
for a special, totally Italian line.