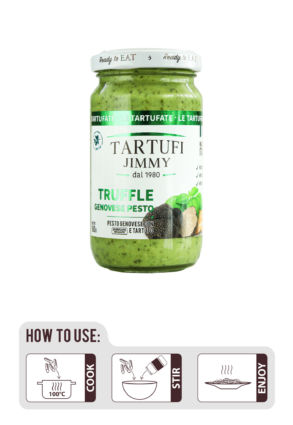 Ready to Use: No cook, No Heat

Healthy: free from preservatives, colorants, GMO

Affordable: for every one every day!!!
LE TARTUFATE Ready to Eat is a line of 10 different ready-to-eat pasta sauces based on truffles. Ten years of experience in the world of truffles has allowed LE VIE DEL TARTUFO to combine this precious fruit of the earth with other Italian excellent products such as Parmigiano Reggiano PDO, Gorgonzola PDO, pesto, and many others, creating combinations that are unique in taste.
Easy to use and ready-to-use: just pour the contents directly on the freshly drained pasta to enjoy the unique scent and taste of truffle and enjoy the atmosphere of a starry dinner at home.
LE TARTUFATE Ready to Eat is an alternative to the classic pasta sauces, making truffles an accessible dish thanks to a unique positioning in the category, ready-to-use (no cooking or heating), and also healthy (no colorants, no preservatives, and GMO-free).
TARTUFI JIMMY has been operating in the world of truffles for over 40 years and today is a reference point thanks to its strong propensity for innovation combined with a strong bond with the uncontaminated territory in which it is located.
The mission is to make as many people as possible appreciate this precious and unique fruit of the earth, meeting the needs of the consumer at different times of purchase. A modern marketing and trade marketing approach also makes the brand at the forefront and competitive in the dynamic world of large-scale retail trade, where it can compete with the highest quality standards, a production plant of the latest generation 4.0, and an organizational structure above the average of the category.