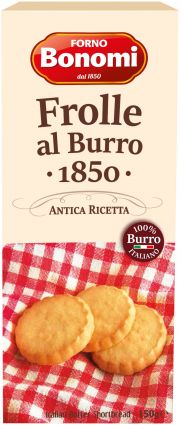 It is the latest creation of Forno Bonomi, made with a traditional recipe used by Forno Bonomi since 1850,when it first opened as a small bakery shop. The Shortbread is made in two different shapes: round or finger.
INNOVATION DESCRIPTION
The recipe involves wheat, eggs and 27% of premium Italian Butter, making it a sweet and slightly salty biscuit, perfect to go along with a cup of tea or coffee.
About Bonomi
Forno Bonomi is an Italian producer of pastry and biscuits, mainly of Savoiardi, Puff Pastry, Amaretti and Butter Shortbread. The history of Forno Bonomi dates back to 1850, when Forno Bonomi opened as a bakery shop in Velo Veronese, a small village in the mountains that dominate Verona, the city of Romeo and Juliet. Today Forno Bonomi has five automated ovens and makes use of high-tech robotics throughout the whole packing process. Nevertheless Forno Bonomi is now exporting its product to 80 countries worldwide and employs over 150 people, the company is still based near the same village where it all started, close to the same places and traditions that made Forno Bonomi the biggest world producer of ladyfingers.