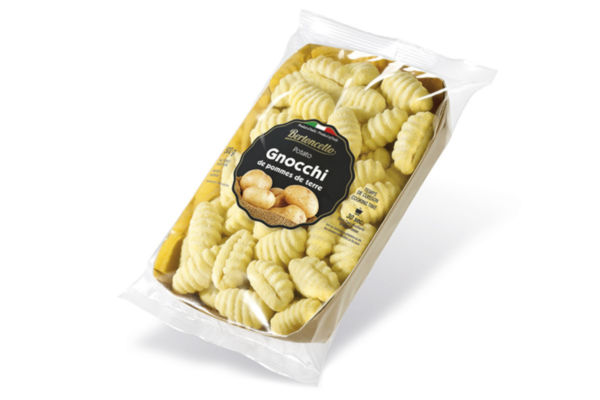 UNPASTEURIZED

LOW GLUTEN CONTENT - HIGH DIGESTIBILITY

HIGH-VISIBILITY PACKAGING
The high quality of the ingredients, the passion for "well done", the artisan tradition, and a good dose of innovation. This is the recipe for the success of Bertoncello, for over thirty years specialists in the production of gnocchi (dumplings). The Italian company, strongly linked to the world of private labels, now presents a line for the self-service and deli market with a renewed logo. The product is visible, to capture the attention of the consumer and the original flavors of homemade gnocchi, and comes in eight flavors to experience new pleasures of the palate. The gnocchi is cold-mixed according to the original recipe and does not undergo any thermal treatment, nor pasteurization. They are made with a puree containing fresh potatoes, Italian flour, no eggs, and no preservatives. Moreover, they have a very low gluten content and a high digestibility (more than fresh or dry pasta).
PRODUCT LINES
Eight ways to bring to the table a genuine, balanced product, with a delicate flavor and great versatility: striped potato, nettle, beet, mushroom, spinach, truffle, potato "chicche" (little balls), and tricolor gnocchi. Each reference is a different sensory experience: striped potato gnocchi go very well with any liquid or semi-solid condiment thanks to their deep grooves; the chicche are small soft goodness that brings together young and old thanks to their ease of tasting.
Packaging
The new packaging is the strong point: the gnocchi is presented in a bright aluminized cardboard tray dressed in a transparent flow pack. It enhances the visibility of the product with small external dimensions, optimizing space. Packaging in a protected atmosphere keeps the freshness and fragrance of the gnocchi intact for up to 35 days of shelf life, without any alteration of the organoleptic properties. The package weighs 500g and comes with a transparent frontal label for immediate readability of the information.