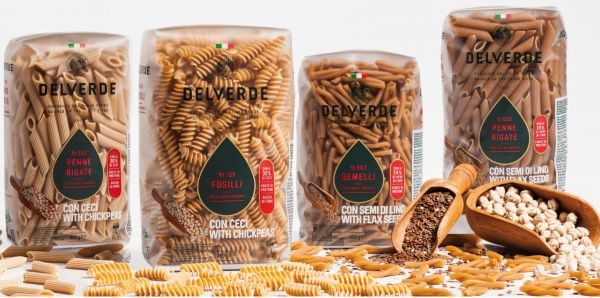 Delverde rocks the pasta market introducing an exclusive and brand new range made with special flours such as chickpea and flaxseed. A new range made of four new cuts: penne rigate and fusilli with chickpea flour and gemelli and penne rigate with flaxseed flour.
Packaging
Gemelli with flaxseeds 450 gr and Penne rigate with flaxseeds 450 gr.  Fusilli with chickpeas 450 gr and penne rigate with chickpeas 450 gr
INNOVATION DESCRIPTION
Four new items rich in fibers, vegetable proteins and made with original and healthy raw material: 24% flaxseed flour and 30% chickpea flour, combined with the best durum wheat and the premium quality of Delverde products.
ABOUT Delverde
Delverde produces more than 120 pasta cuts, ranging from traditional ones to the specialties such as whole wheat organic or the brand new ones with chickpeas and flaxseeds. The name is inspired by the Verde river that runs near the factory. Only the purest water and the best durum wheat to preserve all the nutritional values and give that unique and pure taste. It exports in 60 countries and among the most important quality standards, it achieved also the VEGAN INTERNATIONAL for veg consumers.