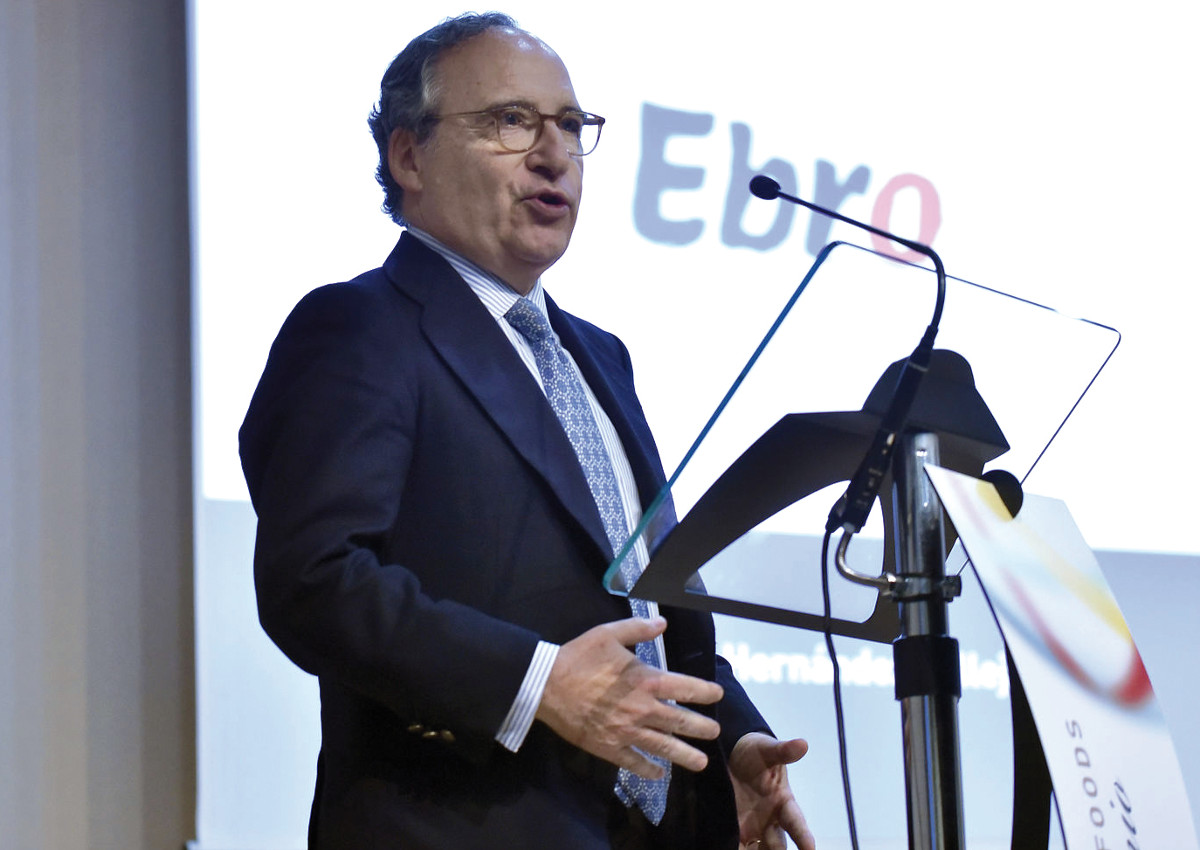 The wealthiest man in Andalusia traveled on a budget airline – according to a witness – to show up in Vicenza and negotiate the takeover of Bertagni 1882, the premium filled-pasta maker, by a Spanish company. A low-profile business trip to close a 90-million-euro deal, amounting to 70% of the company from Veneto, led by Antonio Marchetti and Enrico Bolla. Antonio Hernandez Callejas (in the picture above), President and leader – along with his brother Felix – of the most important Spanish multinational companies in the food industry, Ebro Foods, was the moneybag flying budget to write a cheque, whose wealth is in the region of a billion euro according to the Spanish newspaper El Mundo. Ebro Foods is the world leader in the rice segment, with sales amounting to 1.34 billion euro in 2017 (+4.8% compared to 2016), and the second player in the pasta sector, after Barilla, with a turnover of 1.21 billion (-1.4%). The Hernandez Callejas family has got a diversified business through the icav (a financial holding) Soixa, with stakes in Melià, Gas Natural, Mapfre, Colonial, and many other Spanish and international companies.
Ebro's development policy
The two entrepreneurs, the family's third generation leading the group, come off as entirely different: the calm and number-crunching Antonio, and Felix, who is whimsical and visionary, able to predict future business trajectories where realism is still king. What brings them together is their true gentlemanliness and warmth, their ability to listen, as well as the ability to keep a low profile with the press, with their two different approaches toward business that allow the company to keep its feet on the ground and its eyes looking out at a distant horizon. Ebro is indeed going through a moment of change thanks to targeted takeovers and a robust policy of research and development, which may mean that they are willing to corner the market in the food business for many years to come by developing healthy, premium, high-service products the company is betting on. Italy seems crucial to this plan. Absent until a few years ago, excluding the subsidiary Mundiriso in Vercelli, its presence has grown a lot through a series of targeted acquisitions, crafted with the ability to be under-the-radar until the very last moment.
Ebro: the business numbers
Ebro registered consolidated revenues equaling to 2.5 billion euro in 2017 (+1.9% compared to 2016) with a gross operating margin of 359 million euro (+4.3% equaling 14.3% of revenues) and a net result of 220 million euro (it also benefits from 50 million euro in revenues after Trump's fiscal reform). 37% of the turnover comes from North America, the remaining 48.8% from Europe (excluding Spain, which accounts for 6.7% alone), and then the rest of the world. A largely widespread distribution, thanks to an extensive production presence (about 50 plants, of which 7 in Italy, excluding Scotti) that covers 80 countries. With the addition of Bertagni, the turnover generated by the Italian subsidiaries is in the region of 300 million euro, excluding Scotti – not fully consolidated – that accounts for 180 million. The company launched 438 new references globally between 2013 and 2016, 13 of which under the brand Garofalo and 66 by Scotti. In 2016 only, these new launches contributed 6.4% in average yields, with peaks of 18% for some subsidiaries.
© All rights reserved