Since 1787, the Ponti family has produced vinegar. Still today, Ponti is committed to bringing to consumers all over the world products that combine the great Italian food tradition with the research of innovative taste and the highest quality standards. Ponti's history comes from a family of rural origin. The founder, Giovanni, was a farmer and producer of wine and wine vinegar. His son Antonio inherited his father's passion for vinegar and decided to expand the artisanal business by exporting the brand. The third generation, represented by Guido, expanded the business further by diversifying into the production of pickles and preserved vegetables in oil. The definitive evolution came under the leadership of Guido's sons, Cesare and Franco, who infused new energy in the business through a growth strategy that included the opening of new plants, the expansion into international markets and the acquisition of major vinegar competitors.
A symbol of Italian excellence
Nowadays Ponti is one of the biggest producers of Balsamic Vinegar of Modena 100% made in its production plant based in Vignola, Modena. Thanks to Ponti, this product has become a true symbol of Italian excellence. The Ponti group is today one of the most solid and world renowned family-owned Italian companies, and a leading producer of vinegar, pickles and preserved vegetables in oil, condiments and ready-made sauces.
New balsamic vinegar of Modena Ponti HD
High density, intense and great taste, dense and clear appearance: the new Balsamic Vinegar of Modena Ponti HD is a unique product and the result of careful research in quality, in line with the Ponti mission and tradition. It is obtained from the blend of cooked musts coming from seven grape varieties and precious wine vinegar. A slow heating and concentration process, in open containers, exalts the typical aromas of cooked must; the bouquet becomes intense while taste is more harmonic and persistent, with clear notes of tertiary aromas. It matures in small oak vats for minimum two months. Its high density and balanced, sweet and sour notes add an elegant touch to all raw meats while exalting the taste of cooked dishes.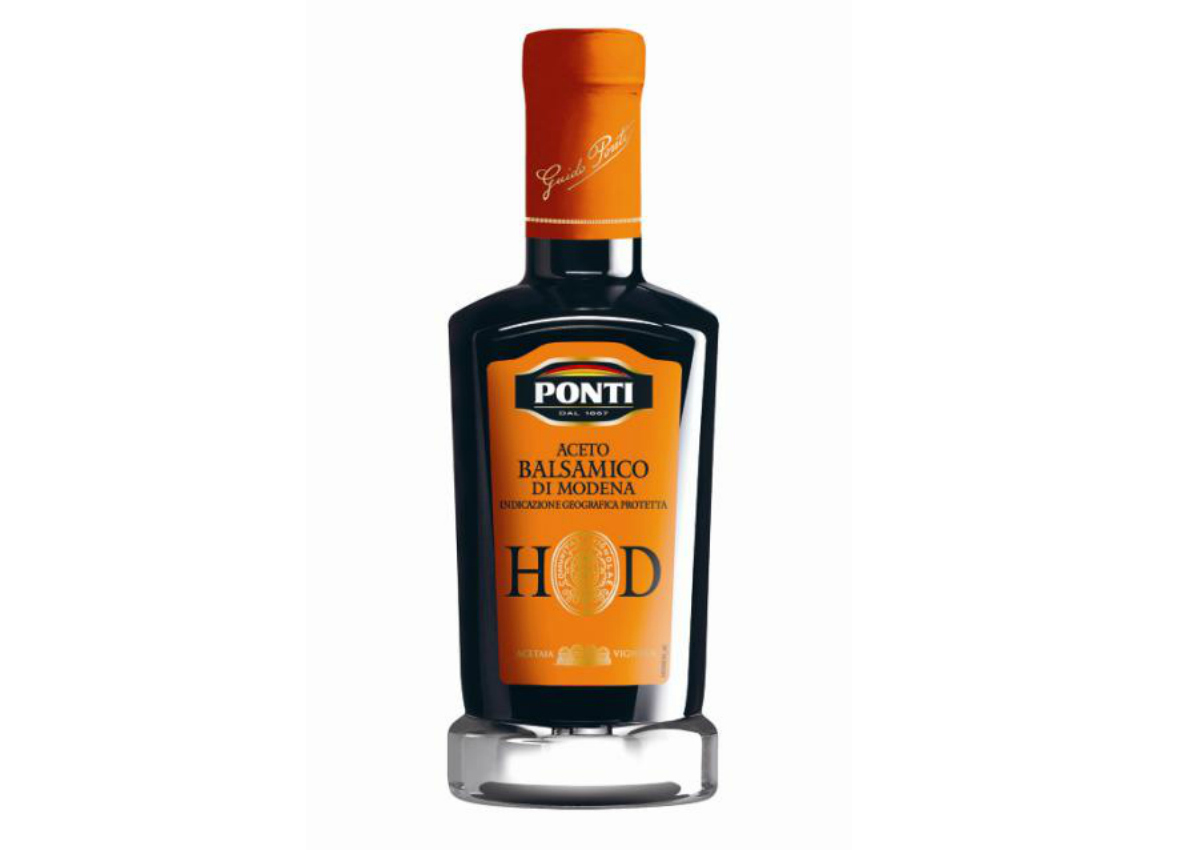 Interview with Giacomo Ponti, Ceo of Ponti
What is the secret of your growth? What is the reason of your success?
Ponti's strengths, in Italy and abroad, are its great values of tradition and experience consolidated in 230 years of history of the brand, alongside with a continuous search for innovation. One example is the Gastronomic Glaze, an international success that blends modernity and tradition.
What are the new products in the pipeline?
In line with our mission, we work to lead the most important food consumer trends: organic, well being, gluten-free, etc. Ponti is a leader in the vinegar market, able to innovate and support innovation with dedicated investment.
How important are exports for Ponti?
We export 25% of our turnover in more than 70 countries. Exports represent for us a growth driver to further develop our company. We are committed to consolidate our presence in foreign markets where we already operate as well as to enter new ones. One reason for our success abroad is to be recognized as the 'N.1 in Italy'. The most efficient way to communicate our leadership is to underline our most authentic Italian identity, for example through packaging.
© All rights reserved