European Authentic Pleasure – a promotional campaign co-financed by the EU and promoted by Istituto Valorizzazione Salumi Italiani (IVSI – Italian Cold Cuts Valorization Institute), together with Consorzio Cacciatore Italiano PDO, Consorzio Mortadella Bologna PGI and Consorzio Zampone e Cotechino Modena PGI – came back to Germany (on 15 October at the Paul Kerschensteiner Schule cooking school in Bad Überkingen – Stuttgart) for the last appointment with the cuisine students.
It was the last opportunity for the students of JRE (Jeunes Restaureteurs d'Europe) and Dehoga Akademie to attend the masterclasses dedicated to Italian PDO and PGI cold cuts and their countless uses.
A LESSON ABOUT ITALIAN COLD CUTS
Authentic European Pleasure last meeting was not only a not-to-be-missed information lesson dedicated to the young chefs of tomorrow about the 43 PDO and PGI cured meats present on Italy's territory. Moreover, it was an important educational moment to increase the recognition of the European quality brands and to raise awareness of their value in terms of food safety, traceability, tradition, authenticity, nutritional and health aspects, which took place.
Fabio Onano, Head of Marketing and Social Media at IVSI, led 80 students through an information and tasting process about Made in Italy PDO and PGI cured meats – one of the most important sectors of the Italian food industry, with export sales reaching over 8 billion euros.
Particular attention was paid to the products promoted by European Authentic Pleasure, also protagonists of an interactive cooking show and some recipes by chef Cristian Broglia:
Mac roggenbrot with Mortadella Bologna PGI, Parmigiano Reggiano cheese froth, and pistachio grains;
Spatzle with egg, porcini mushrooms and Salamini italiani alla Cacciatora PDO;
Linsen mit saiten with Cotechino di Modena PGI;
Roman Saltimbocca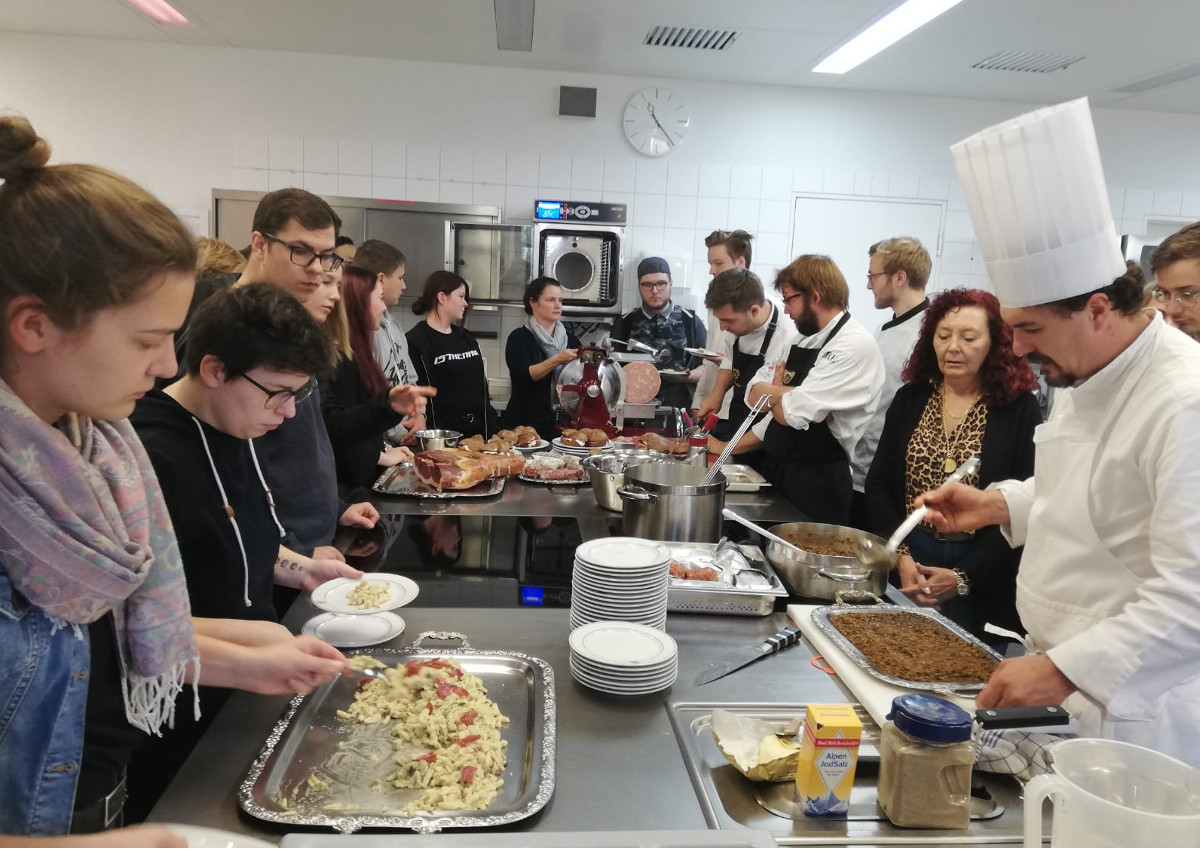 EUROPEAN AUTHENTIC PLEASURE: THE CONTEST
The same students will soon be asked to participate in a contest for the design and production of original dishes based on Zampone or Cotechino Modena PGI in combination with Mortadella Bologna PGI, Salamini Italiani alla Cacciatora PDO and/or other PDO and PGI European cold cuts.
In addition to the prize and a study trip to Italy, the winner will be awarded the opportunity to stand out in the eyes of the President of the Jury Massimo Bottura, the best chef in the world. In fact he will be the one to award the winner during the 9th edition of the Zampone and Cotechino Modena PGI Festival, to be held from 6 to 8 December 2019.
© All rights reserved