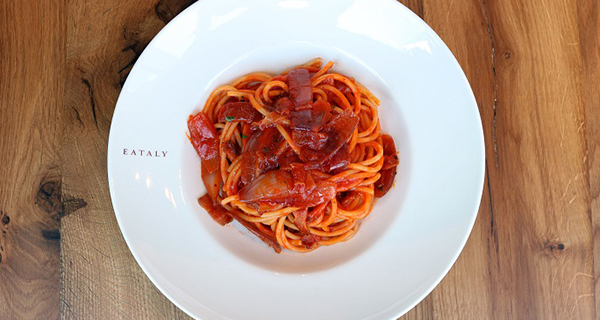 Central Italy is going through a terrible tragedy since August 24th earthquake. It has severely damaged Umbria, Marche and Lazio territories, striking them with considerable force. Eataly, the italian food marketplace, wants to help assistance and rebuilding operations through solidarity actions. For instance, involving its shops in Italy and abroad.
A FUTURE FOR AMATRICE – That's why Eataly supports "Un futuro per Amatrice" (A future for Amatrice, one of the most damaged Italian towns), the solidarity fund-raising campaign promoted by Slow Food and Terra Madre president, Carlo Petrini. He recommends that every restaurant in the world insert in its menu for a year the tipical italian Amatriciana pasta – Amatrice gastronomic symbol, a first dish made with a long kind of pasta called bucatini and a sauce based on cured pork cheek, pecorino cheese and tomato. The goal is to support all the people affected by the earthquake and to help them to rebuild their future. Since August 27th, for every Amatriciana ordered in Eataly d'Italia Ristorantini € 2,00 will be given to Amatrice municipality. Eataly will offer € 1,00, and the customers the other € 1,00. Anyone will be allowed to give extra money to Amatrice through Eataly check-outs.
AMATRICIANA AROUND THE WORLD – Throughout September, Amatriciana will be also available in Eataly Monaco menu. Half of the proceeds will be directly given to Amatrice municipality. Extra contributions will be possible at Eataly check-outs, too. In the United States, Eataly promotes fund-raising collection "Amatriciana per Amatrice". Throughout September, $ 5,00 will be given to Amatrice municipality for every Amatriciana course sold at Eataly NYC Flatiron, Eataly Chicago and Eataly NYC Downtown. On September 6, a fund-raising dinner will take place at Osteria della Pace in Eataly Downtown. Guests will taste six special courses prepared by chef Mario Batali, Daniele Boulud, Riccardo Orfini and Eataly pastry chef Katia Delogu. Proceeds will be entirely donated to Amatrice municipality, in order to help rescue and rebuilding operations.
© All rights reserved